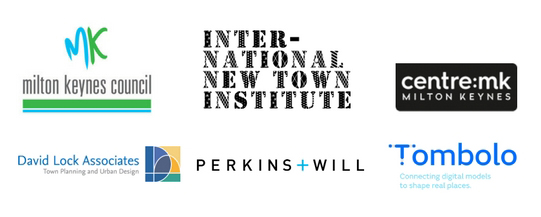 The Academy of Urbanism (AoU) is holding a major symposium to mark the 50th anniversary of Milton Keynes. The event is organised in association with the International New Town Institute (INTI) as part of a wider CityFest which will take place in Milton Keynes, 26 June – 01 July 2017. The AoU / INTI programme includes:
Day 1
Wednesday 28 June
INTI Conference
International New Town Day 2017: New Towns as Cities of Comings and Goings
Day 2
Thursday 29 June
Milton Keynes Tours & Reception
Joint INTI/AoU day of city tours, discussions and an evening drinks reception
Day 3
Friday 30 June
AoU Symposium
New Towns: What's Next?
---
The programme and times may be subject to change – further details and regular updates will be available on this page.
DAY ONE: 28 JUNE 2017 – INTERNATIONAL NEW TOWN DAY 2017
At Middleton Hall, thecentre:mk, 24 Silbury Blvd, Milton Keynes MK9 3ES
Programme available at newtowninstitute.org
DAY TWO: 29 JUNE 2017 – MK TOURS & RECEPTION
Start / finish point: Middleton Hall, thecentre:mk, 24 Silbury Blvd, Milton Keynes MK9 3ES
08:30
Registration, Tea and Coffee
09:00
Brief History of Milton Keynes
David Lock CBE,
Founder, DLA; Trustee, TCPA
10:00
Study Tours
Option 1: Bike Tour – West MK
Option 2: Bus Tour – East MK
12:30
Lunch (at Middleton Hall)
13:30
Study Tours
Option 1: Bike Tour – East MK
Option 2: Bus Tour – West MK
15:30
Tea and coffee
16:00
19:00
Drinks Reception(At David Lock Associates, 50 North Thirteenth Street, Milton Keynes, MK9 3BP)
Welcome and launch of the City Structures reprinted edition by David Lock Associates, sponsors of the event
Speakers include:
David Rudlin AoU, The Academy of Urbanism, Michelle Provost, INTI
Will Cousins, Chairman, David Lock Associates (sponsors)
DAY THREE: 30 JUNE 2017 – NEW TOWNS: WHAT'S NEXT?
At Middleton Hall, thecentre:mk, 24 Silbury Blvd, Milton Keynes MK9 3ES
09:00
Registration, Tea and Coffee
09:30
Welcome and introduction
David Rudlin AoU, The Academy of Urbanism
09:35
Welcome to MK
Peter Marland, Leader of MK Council
THEME 1 – FUTURE TRENDS & FUTURE CITY
09:45
Changing lifestyles, changing society
Prof Rachel Cooper OBE AoU
Professor of Design Management and Policy, University of Lancaster; Future of Cities Foresight and Liveable Cities research programme lead
10:05
Smart mobility, Sustainable designs
Judith Sykes
Useful Simple Projects; MK Futures 2050 Commissioner
10:25
Big data and the way we design cities
Euan Mills, Urban Design and Planning Lead, Future Cities Catapult
Dr Eime Tobari AoU, Associate, Space Syntax
10:55
Design innovation
David Green, Global Practice Leader, Perkins + Will
11:15
Tea and coffee
11.45
Panel Debate: Future trends and future cities
The impact of future trends on "new new towns"
Panellists include:
Prof Rachel Cooper OBE AoU, University of Lancaster
Jon Rowland AoU, Director, Jon Rowland Urban Design
Toby Hiles, Strategic Development Director, Transport Systems Catapult
Rory Hyde, ‎Curator of Contemporary Architecture and Urbanism, V&A Museum
Ruth Marshall-Johnson, Associate Foresight Director, The Future Laboratory
Chair: Leo Hollis, writer and editor
13:00
Lunch
14:00
MK Futures
Duncan Sharkey, Corporate Director, Place, MK Council
Eleri Jones AoU, MK Futures 2050 Commissioner
THEME 2 – PAST FUTURE CITIES
14:20
Milton Keynes: the first 50 years
Lee Shostak OBE
Director, Sapiency
14:40
The international movement
Prof Robert Fishman
Professor of Architecture and Urban and Regional Planning, University of Michigan
15:05
Tea and coffee
15:30
Panel Debate: From ides to realisation on the ground – lessons from "old new towns"
Panellists include:
Dr Noël James, Director, MK City Discovery Centre
Prof Robert Fishman, University of Michigan
David Lock CBE, Founder, DLA; Trustee, TCPA
Dr Michelle Provoost, Director, INTI
John Best AoU , Managing Director, John Best Re.Generation Limited; former Chief Executive of MK Council
Chair: Dr Owen Hatherley, writer and columnist
16:45
Closing remarks – Can hope ever become reality?
Dr Owen Hatherley, writer and columnist
Leo Hollis, writer and editor
David Rudlin AoU, The Academy of Urbanism
17.00
Close
---
Book Now