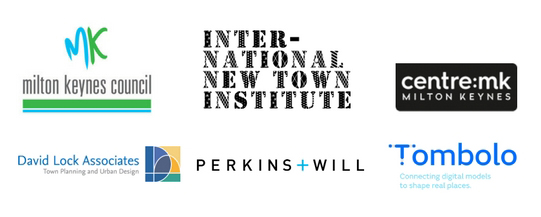 On Thursday 29 June 2017 take the opportunity to get to know Milton Keynes a little better, by bike or bus.
Find out how the neighbourhoods, street networks, housing and centre of Milton Keynes have matured over the past 50 years. What has been a success? What lessons can be applied to new places? What might planners do differently if they had the chance?
By bicycle
Led by David Lock Associates, the routes are planned to show a mixture of city structuring elements including a variety of forms of development and how these have been planned within the structure of movement connections, green and blue networks of landscape and water that crisscross the city.
Highlights of the tour include: Conniburrow, a formal residential grid square at high density; Great Linford, one of the original villages integrated into the city, including new housing; and the Grand Union Canal, a landscape corridor through the city with leisure routes for walking & cycling and an attractive setting for development.
Places on the bike tours are extremely limited so please indicate your preference early!
By bus
The bus tours, led by Alistair Barr AoU and assisted by David Lock CBE, will be no less adventurous in their attempt to showcase lessons from Milton Keynes.
Highlights of the tour include: Oxley Park, a £60,000 housing competition launched in 2005 with much fanfare by John Prescott as an affordable housing model; Tilbrook, the ultra high-tech home of Red Bull Racing; Oakgrove Village, one of the seven Millennium Communities that will deliver over 1,100 on a former gravel pit; and Campbell Park, where the Park's Trust will present a truly unique green space management model in operation in MK.
For those that arrive a little later in the day, there will be a shorter bus tour starting at 4pm.
These are just a taster of where the bikes and buses will venture in Milton Keynes. However, the final confirmed routes and tour stops might be subject to change beyond our control.