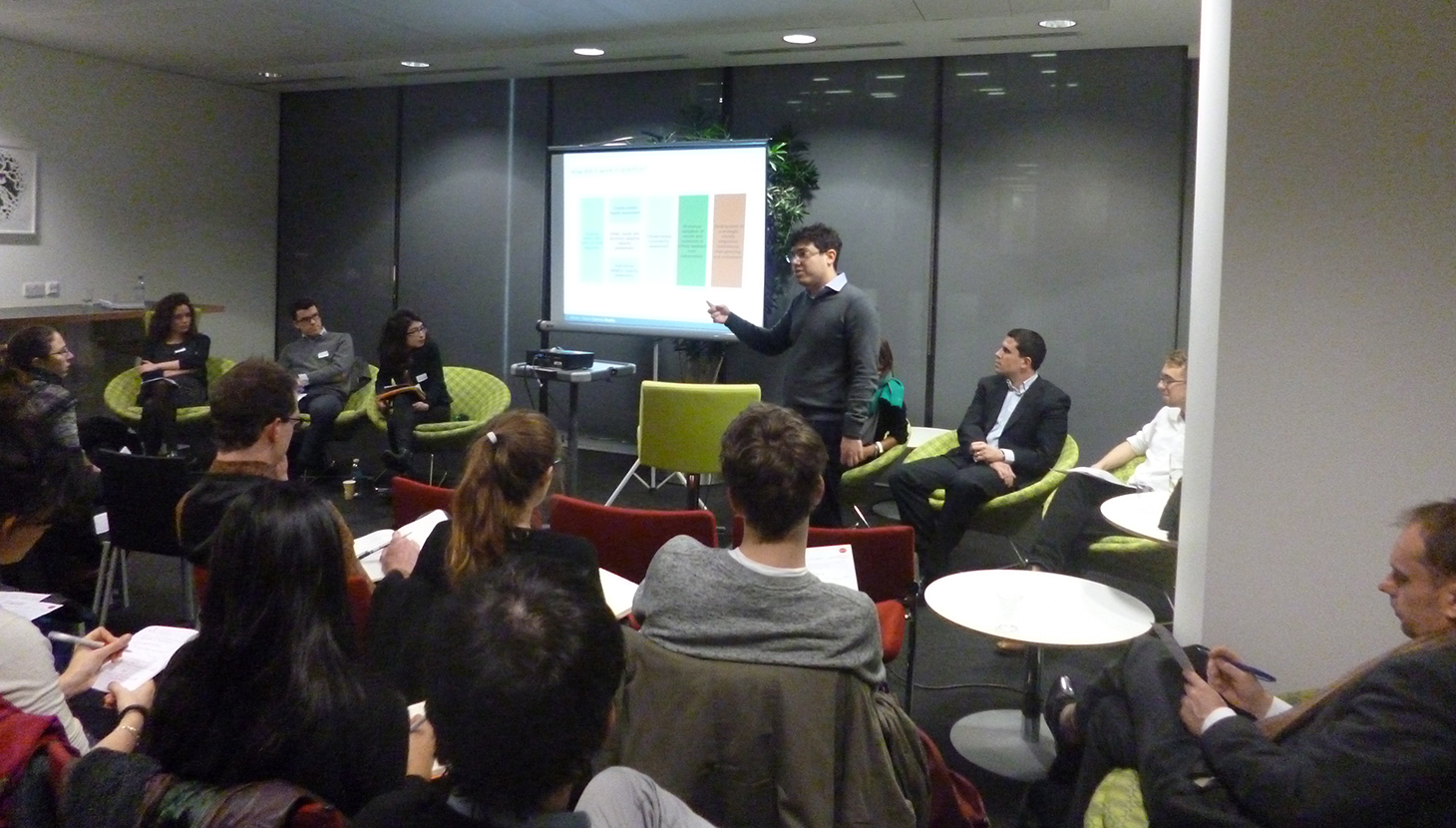 Wednesday 11 February 2015
AECOM
Hosted by AECOM, the Young Urbanists gathered in early February for their first event back in the New Year. We recognise that UK has an amazing built environment industry that is increasingly globalised, and this is particularly interesting because many of our members are involved in international projects across the globe, even early in their careers. This global experience has raised some interesting questions: what we can learn from international practice that informs our practice here in the UK? And alternately, what can UK people bring to international contexts?
With six speakers presenting for about eight minutes each, we gathered a broad coverage of world regions as well as sectors to discuss these questions.
Jose Monroy, ICF International
Jose, a Mexican with a background in political science, spoke about a project he worked on for the World Bank in 2012-2013 through a consortium with ICFI, King's College and Laera. He works for the small London team, which is part of GHK, looking at climate change adaptation in Latin American and Caribbean. They were looking at five mid-size cities across the region facing varying challenges, including floods and landslides, mapping out the parts of the cities that were at risk. The ultimate goal of the project was to incorporate climate change measures into policy for mitigation of these disasters.
Jose noted that the adaptation planning process has four cases: assessment, planning, implementation, and monitoring and evaluation, with this particular project having a strong stakeholder-engagement component. As part of the project, they organised field visits to all of the cities to do a climate assessment, then undertook an institutional assessment, a vulnerability assessment, ran workshops where they presented their findings, and finally produced recommendations.
The challenges that Jose faced during this project began with the flows of information in dealing with five different cities, but being based in London – even with the help of local consultants to facilitate exchange. Additionally, the relationship with the World Bank within the various countries posed challenges, as it had a different role in each. Jose closed by stating that adaptation planning is a political process and you must take into account the local context – it is not just about providing the technical assistance, but also understanding politics.
Floriane Ortega, WaterAid
Floriane is from France and did her degree at LSE in Regional and Urban Planning. She started with WaterAid in April 2012 after leaving her position with a climate change adaptation association, and just joined this project in 2014. The project was designed and funded by the NGO WaterAid (in partnership with Sheppard Robson) who has strong links working with local authorities in Africa, Asia and Central America. They wanted to produce a high level master plan for water sanitation, and are mostly working in rural areas.
Floriane's role in the project was to coordinate and liaise with local authorities as well as private companies, and collect data on topography, demography, sectoral data, etc. She was linking up with companies like Mott Macdonald, UCL and Thames Water, and also linked with funding for sanitation from DFID, African banks, and more. Their project was integrated, so it didn't stop with sanitation but included other localised programmes such as waste management. They undertook the project in phases: diagnosis, data collection, workshop, creating a high-level masterplan, and production of a report.
This all proved very challenging, because Kinshasa, where the project was based, had not done a census since 1984, so data was scarce. Also, the city is twice as dense as London within the city centre, but has one of the worst sanitation profiles of any African city. She cautioned that you should not stop at administrative borders, but work within a functional area with a 50-70 year timeframe, and that plans need to be practical.
Zainab, AECOM
Zainab has her Masters from the Architecture Association in Housing and Urbanism. At AECOM, she is currently working on a project based in Jeddah in a team of 15 people spread across London and Jeddah.
Jeddah is growing rapidly and currently has a population of 3 million. Located on the Red Sea and surrounded by mountains and a rapidly-developing waterfront, the city is an entry point to various religious sites and is known as the creative point of Saudi Arabia. There are no limitations for growth, so Zainab noted it is important that they start thinking about long-term strategy. There is a port, an international airport, and waterways that are rife with opportunity. However, they do face constraints in terms of lack of affordable housing alongside the growing informal settlements that are taking over vacant land. There was an initiative to take these settlements down, but they are now looking at how to classify them and are working with the residents to best develop them – integrating unplanned settlements could be good for the city.
AECOM has developed a strategy using hierarchy of movement, integrated green infrastructure and hierarchies of centres of facilities. They worked with Young Urbanist sponsors Space Syntax for analysis of the transportation systems, and they are now in the structure plan phase. The area action plan is the next phase looking at 28 district centres, and applying strategies into the grain of the city.
Stefanos Zymis, Buro Happold
Stefanos works as consultant, sitting between the planning and design teams at Buro Happold, which is a global multi-disciplinary business. Buro Happold also has a cities group that works to solve urban problems, for example with the Detroit works project, which Stefanos towards the end. This was one of his first projects as a graduate.
The mission of the Detroit Works project was to help the city consider its future. As part of the project, they undertook a comprehensive review at both the city and neighbourhood level, looking at utilities, transport and infrastructure to see how they work and how they can be improved. Stefanos helped to prepare a framework for environmental sustainability comparing it against other cities in the US. They developed a city model for alternative land use scenarios and published a book on their findings in January 2013.
Stefanos was specifically involved in the city modelling part of the project, looking at the public transport system. He noted that the population of Detroit has been significantly declining, and the running costs and capacity of its public transport system is very high. On top of that, most of the jobs in the region are outside Detroit. As a result, the municipality put a proposal together to better link access to jobs and transport. However, the problem with this proposal was that it was limited to the city level. Following that, there was another proposal that worked to reinforce the centre and surrounding satellite towns, connecting them through improved transport, which has created changes in the land use and public transport systems, which in turn allows greater accessibility to jobs across a wider area.
Stefanos noted that there were many challenges during the project, notably with data management, as there was so much data to manage. They had to consider how you keep meta-data when it is always changing, which made the process of modelling very difficult. Although the project duration was long, they simply did not have time to find the best solution to this problem. Another significant challenge was a result of their location – the project team was composed of five teams, but Stefanos' team were the only ones in London, so working with the time difference proved difficult. Finally, Stefanos stated that understanding the political and cultural context in a different country posed challenges to the team, and caused him to recognise the importance of having integrated planning.
Clare Healy – C40
Clare shared her experience of working in Hong Kong as urban planner, however she now works with C40, a non-profit climate change leadership group, which manages a network of cities and different planners who come together to share best practice. Clare previously worked for Arup for six years, with two of those in Hong Kong.
Clare noted that planning in Hong Kong is very different to planning in the UK. She was their first ever foreign urban planner, so there was a steep learning curve, as the planning process in Hong Kong is very place specific. There is lots of jargon and new acronyms to learn and the system is zoning based. Clare noted that she actually came to prefer the zoning system, as it was clear what you could or could not build. As part of her role, she completed a number of studies for the government to be able to provide zoning plans. There are great swathes of land that had not yet been developed, but which the government eyeing for development. Working on new territories, she produced planning and engineering studies for those sites that would be given to the government, who would then produce the statutory building plan.
The main challenge that Clare identified about working in Hong Kong was the structures of the teams – in London, teams tend to be top-heavy, but in HK there was only one person above her. They had hierarchical working practices in a very formal and old-fashioned office. She even cracked a joke that they still send faxes! Clare also noted that the language barrier was challenging, and interestingly, food is very important in Asian business culture with lots of meetings taking place over food. In summary, Clare stated that the Hong Kong team was extremely hard working, and although the upfront process can be tedious, the planning system is overall very effective and efficient.
Aaron Davis, The Prince's Foundation
Aaron has been working at The Prince's Foundation, which is an educational charity for traditional architecture and urbanism set up by Prince Charles. With over seven years experience in planning projects throughout Florida, Brazil, China, Russia, and the UK (six of the seven continents), Aaron shared his experience about a Smart Coding project in Gabon. The project was an urban extension project just outside the capital of Gabon which planned to grow the population by 150,000 people.
Smart coding, Aaron explained, is a form-based code that came from Seaside, Florida (made infamous in the movie The Truman Show), known to be the first New Urbanism development by Andrés Duany. However, the context is different in Gabon when using an American system, as you are constricted by environmental patterns. In this project, they used community types from high density and suburbs through to medium density, but major thoroughfares was not something they had worked on much, so they developed simple diagrams that gave restricting patterns in road layouts.
However, this is when the problems started. Aaron explained the idea of transecting, which is going from the core urban area and gradually decreasing to a rural natural pattern. Applying this in Gabon is quite difficult as planning education is not as strong in that part of the world, so they had to rethink how to apply transecting to the project. Instead of detailing individual buildings, they focused on building types across blocks, and tried to pick up on local patterns of building types and architecture. They faced constraints with the sterile social housing blocks that the government built and also from the large-scale building projects.
Q&A
One delegate noted that it is disappointing to think that you work so hard on these international projects, but they don't always influence things in the way they were intended to. In order to create something with fantastic principles, it is important to break a project down into a manageable timescale.
One delegate asked the panel whether they had ever seen some of their processes and ideas actually being implemented. Floriane responded by stating that in developing countries, it is important to assess the relevance and integrity of your masterplan. Jose explained that often you don't have any legal stature once the plans and recommendations have been produced, and in the case of his project, the World Bank did not implement the plans but instead created their own. He suggested it was more about producing knowledge that the Bank and local stakeholders could use to produce something. Additionally, all the reports they produced were in English, but all the cities they wrote them for were speaking Spanish. Aaron highlighted the need for the people on the ground to teach the local people how to construct without measurements. And Clare mentioned that is was always more satisfying in Hong Kong, as she knew that what she was planning for was going to be built.
One delegate challenged the panel to summarise, in one single word, they key to making a good plan and getting it delivered. The responses included: simple, integrated, organised, less government comments.
One speaker noted that they often came across old masterplans that hadn't been implemented, suggesting that the major reason for this is that the government changes every few years. One delegate wondered why the panel thought these plans had been discarded? Aaron mentioned that he was actually working with an outdated land use plan that wasn't being followed, which meant the government was building whatever they wanted. He stated that it was adopted but that the ministries didn't actually abide by it. Floriane noted, in her project, that the timing of urbanisation didn't match the timing of the masterplan to control the development. Clare summarised by saying that it is disappointing when the masterplan you work on just sits on a shelf – it is not good for the profession.
The panel concluded by noting that when you work in developing countries, there are scarce resources but also informal development, which can be an asset in making cities, of course with lots of problems. One delegate wondered whether the panel had taken informality into account as a potential key to deliver changes – is it possible to include informal planning in the development systems? Aaron noted that informal settlements are sometimes more relevant to their local context than what the government is producing. Zainib noted the previous approach to demolish informal settlements was client driven, but they began to understand that these settlements were more of an asset to the city, as that is where a large portion of the population is living.