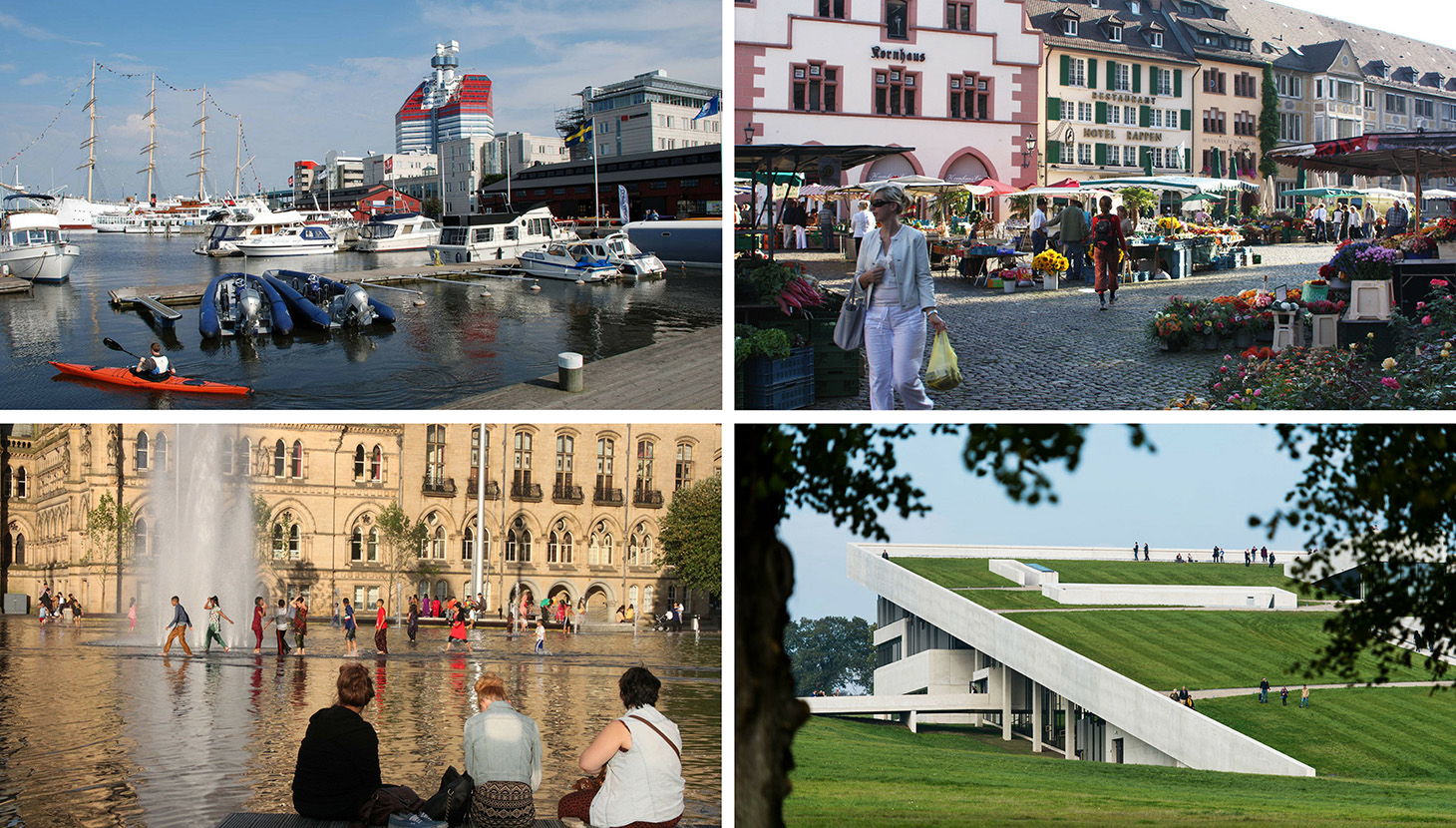 Sharing the inspiration from cities of culture
Ahead of the Aarhus international urbanism congress, Ann Wallis AoU highlights the importance of learning from places of culture.
As I look forward to being inspired and challenged by the Academy of Urbanism's annual Congress – this year in Aarhus, the 2017 European Capital of Culture – I find myself reflecting on the many ways in which culture contributes to the changing economic and social vitality of towns and cities.
As an Academician I have been fortunate to be able to extend my personal knowledge and professional practice through the shared learning from previous Congresses, and as a member of the Urbanism Awards assessment team. Aspects of culture have become much more important ingredients in the way cities plan and deliver their transformation at a variety of scales, not just in the designated 'capitals' of culture, like Aarhus, San Sebastián and Marseilles, but in many smaller cities too.
In Gothenburg, the Norra Älvstranden area, once the home to world-famous shipyards, fell into serious decline in the 1970's, becoming virtually derelict and difficult to re-purpose. However, despite a slow start, the gradual redevelopment of Norra Älvstranden as an up-market mixed-use district with housing, high-tech industries, educational facilities, a science park and an accessible waterfront, took off in the 1990s. Now, twenty years into a thirty year vision, the area is thriving and has become a stylish new quarter for Gothenburg. A major key to success was an early decision to change the image of the area in the minds of the people of the city by giving them reasons to visit the area. Music festivals, temporary performance venues and programmes of cultural events drew visitors across to the northern side of the river, offering new perspectives on a previously undesirable area, and eventually leading to people wanting to live there and investors willing to support the vision.
Recent urban realm improvements in Bradford have changed the vibrancy and playfulness of a key public space at the heart of the city. The dynamic Mirror Pool is a considered and imaginative use of light and water, encouraging an interplay with people, whether on their way to work or school, or just out for a morning chat with friends. There's even a pathway through the pool and fountains, if you time your journey well!
Nestled between the residential areas, we found shared spaces in Freiburg which offer community gardens and playgrounds built, used and cared for by neighbours. Freiburg's model for sustainable urbanism encourages these green lungs, which extend the green infrastructure and natural habitat, forming such an integral part of the city's daily rhythm. An unexpected shared space in the same city is a church which is shared by congregations of two faiths, taking time to have separate as well as combined community events and services.
In Spike Island in Bristol we found creative businesses – designers, artists, entrepreneurs and cultural commentators who have all brought a vibrancy to the creative area through thoughtful conversions and active live/work space that, reinvigorated the important industrial heritage. Similarly, in Gothenburg an example of a sympathetic change of use of a former electrical works has drawn visitors to an industrial museum, now part of a riverside regeneration scheme.
On a visit to the Folkestone Triennial in the company of fellow Academicians, I was keen to see how the visual arts could help to make a place through reclaiming, enhancing and enlivening spaces. With the demise of the ferry port for those traveling to and from the UK, Folkestone has developed a cultural approach to encourage local people and visitors to spend more time in and around the historic town – exploring a 'gallery without walls'. I was impressed by the ways the curated commissions of public art, audio-visual and digital installations revealed universal narratives, and brought new uses, visitors and exclamations to forgotten or underused spaces tucked away across the town. Some literally cut into the cliff face and others occupied spaces no longer in regular public use, with the works questioning possibilities and offering regenerative opportunities to follow on from their temporary, meanwhile uses.
So now, in 2017, Aarhus welcomes the Academy for Congress XII, A New Culture of Urbanism where we will explore the many new ways of re-thinking, altering and adapting our towns for social and economic benefit – in a range of exciting cultural venues.
We are now a generation on from the key shift in cultural policy, moving beyond a binary production vs. consumption calculus and 'flagship' approaches, to a serious focus on inclusive economic development and urban regeneration. Aarhus is demonstrating a greater ease with integration, and a recognition that this is no longer about culture as a remedy that is mysteriously 'sprinkled on', but is rather an integral part of urban policy, defining our personal lives, and inhabiting our professional ones.
The Aarhus Congress will be a great opportunity to experience this year's European Capital of Culture up close and personal (as well as hear from last year's San Sebastián-Donostia). I'm looking forward to learning about the ways Aarhus is re-thinking and re-using its urban form; considering how architecture and cultural interventions contribute to liveability, and how the built environment is being developed to support an ageing and more diverse population. It will also be an opportunity to learn from the Danish experience of innovative practice in their creative industries, and how interdependencies between creatives and entrepreneurs have built and strengthened the sector.
The Academy of Urbanism's Congress will also contribute to the wider city debates and conversations around culture and activism in this special year. Hopefully there will be time for a peek into the exciting programme of performances and events that are underway – to hear an underwater concert, to enjoy the light sculptures or encounter the lifeboats loaded with memories and dialogue.
This should be a truly great experience for all those who are passionate about cities and culture. My tickets are booked, are yours? I look forward to seeing you there!
Ann Wallis MA FRSA AoU
Director of Culture Partners, a not for profit company working to further the creative economy through cultural planning, arts development and enterprise support.