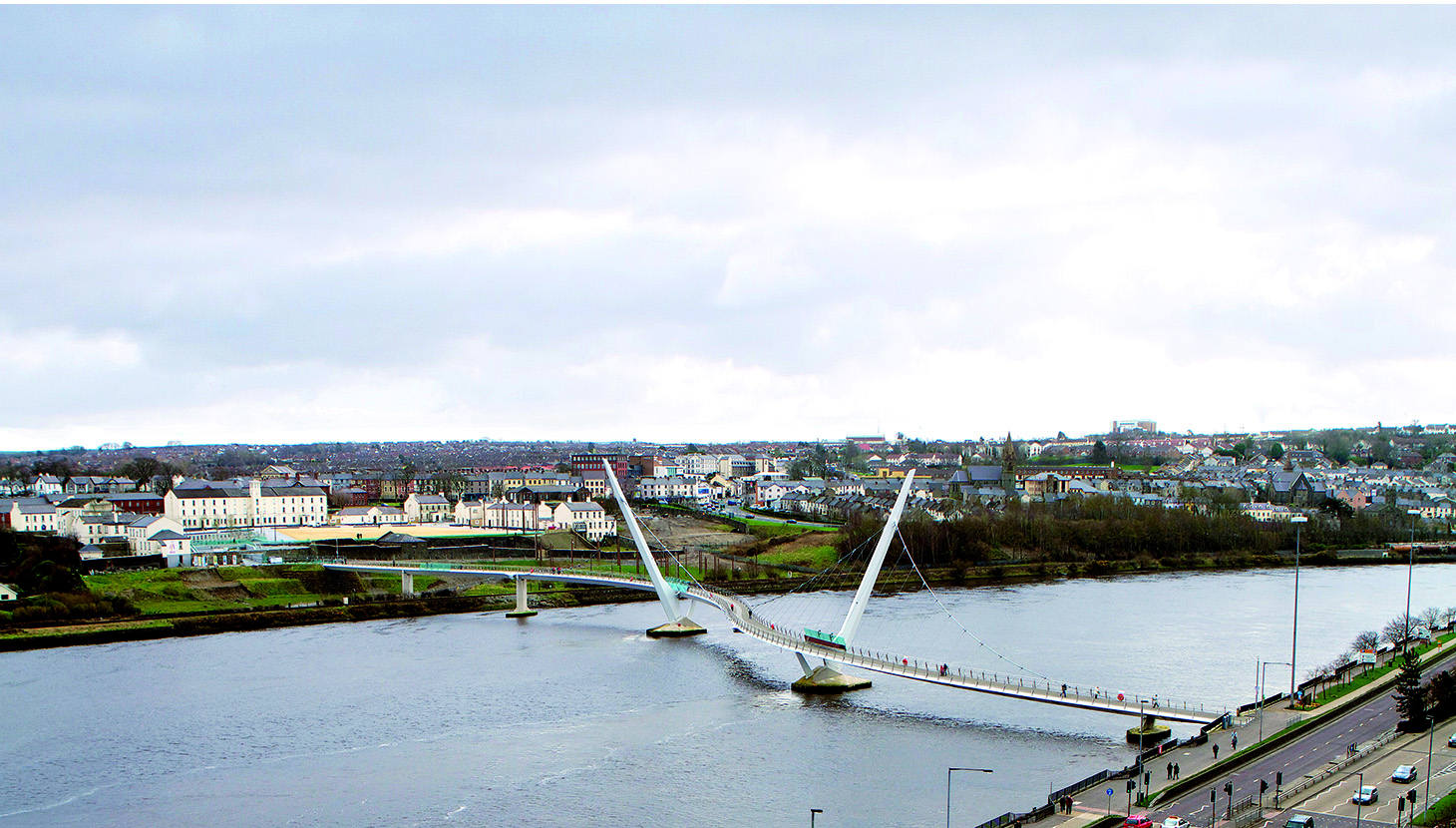 Words by Mary Kerrigan AoU, Mary Kerrigan Architects
First published: Journal 1, 2012
With established economic, political, and social certainties disappearing like 'snow off a ditch' the challenges facing our towns and cities have never been greater. Natural disasters, global terrorism, rising unemployment, fuel and food poverty – and the risk of these – are forcing a response that will redefine our ways of life, our society, its culture and the expression of that in our physical environment.
The seventh Academy Congress, 9-11 May 2012, explores the robustness and flexibility of our historic urban settlements for developing greater resilience to cope with and adapt to these challenges; and the potential for high levels of social capital to drive and achieve socially and economically sustainable regeneration.
Jewel in the crown of the Ulster Plantation settlements, and the first example of true urban planning in Ireland, Derry~Londonderry is no stranger to economic recession. Though geographically peripheral it has been central to some of Northern Ireland and Ireland's most turbulent and progressive historic events. Derry's is an inspiring story of ground up social and physical transformation in the most testing circumstances – an ideal prism through which to explore issues of resilience – often flip sides of the one coin.
Built heritage is crucial to the character and distinctiveness of our different places and frequently sustains the most diverse and interconnected community life. Despite contributing significantly to economic regeneration through tourism heritage is often seen as a liability rather than an asset – its repair an obstacle to progress and in conflict with the climate change agenda of reducing carbon footprints. How do we resolve these apparent dichotomies?
The economic engine behind the regeneration and expansion of so many towns and cities has slowed to a purr or conked out completely – particularly in Ireland. With the pennies in our collective purses in very short supply how do we cut our cloth to suit? As the physical and social severance wrought by traffic engineering theories devised to cater for increasing car ownership is laid bare – literally – by decreasing traffic volumes resulting from fuel poverty there is a pressing need to redress the balance.
This Congress – convened in the first UK City of Culture 2013 – challenges us to adapt our cultural mindsets to meet our global and local challenges positively and creatively. It challenges us to keep the baby in the bath water and to distill essential lessons left by our ancestral place makers so we are better equipped to make and remake places that are truly resilient, fantastic experiences for us all as human beings.
Reputed for its warmth and wit, Derry welcomes international delegates and speakers interested in engaging in its live resilience issues though interactive, purposeful inquiry to share learning and leave a lasting legacy. Dubbed the Hallowe'en capital of Ireland, this place loves a party so with lots of joyous celebration thrown in this promises to be the most distinctive and memorable Congress ever.
Words by Mary Kerrigan AoU
Education Officer, Walled City Partnership
Derry~Londonderry