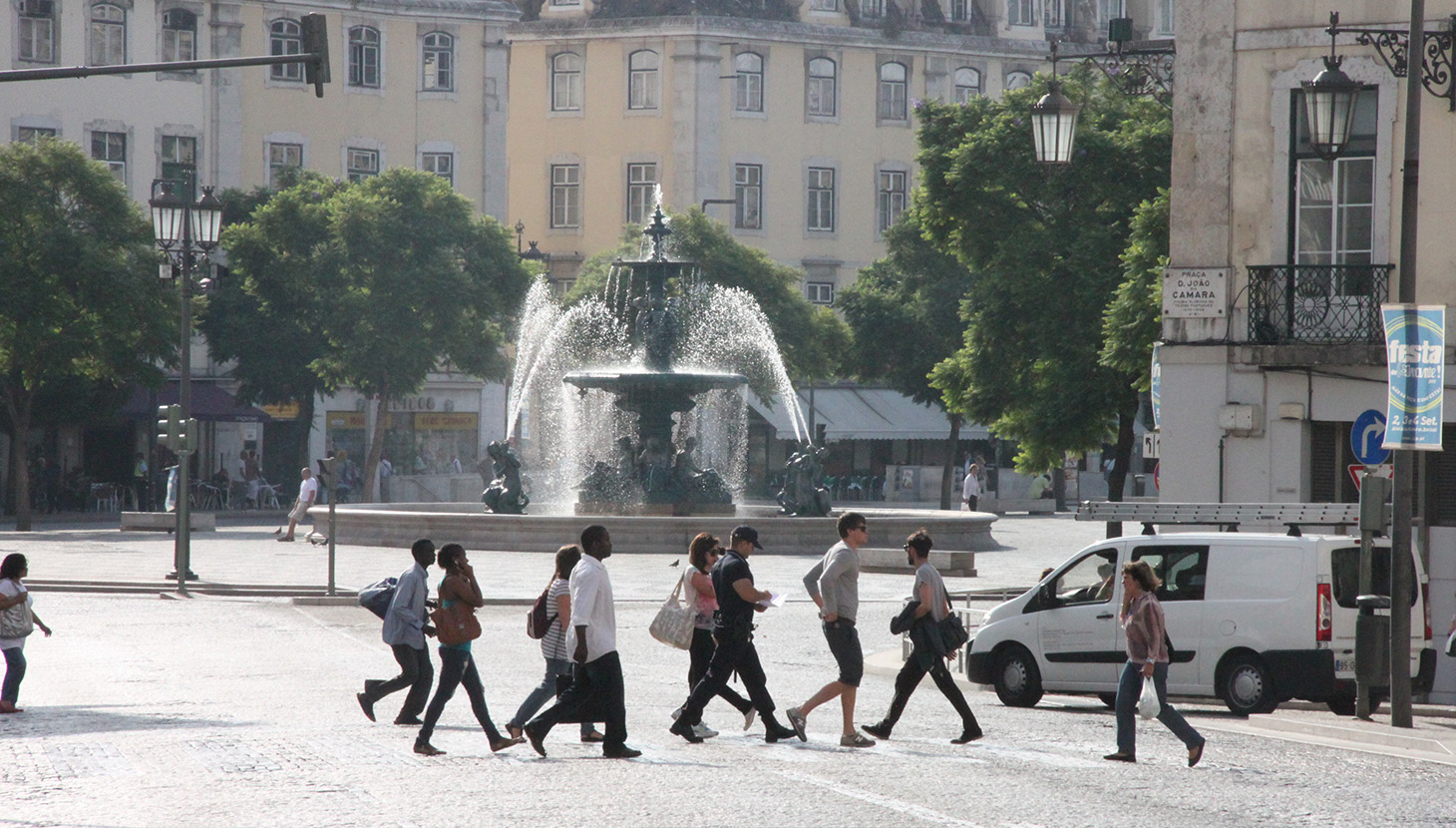 This is apart of the Learning From Lisbon Report, to read more click here.
The Lisbon Master Plan demonstrates the very high priority Lisbon is now giving to investment in the city's public spaces and associated facilities, despite severe economic austerity and resource constraints.
3.1       Six key drivers
Given the range of other economic problems the city faces and the relative shortage of public capital investment funds, this situation raises two important questions: why have Lisbon's municipal leaders made this decision and how are they implementing it?  The answers lie in the importance of six key drivers.
Horizontal investment leads to vertical investment:
The city policy makers believe that investment in high quality public space will not just continue to attract private sector investment, but will attract increased private investment, by the very fact that the city is making an on-going tangible commitment to invest in, andimprove, its urban fabric, even in difficult economic times.  So far the faith that 'horizontal investment leads to vertical investment' appears to be justified in Lisbon, and whilst not appearing to have much support by central government in the UK, this approach seems to be a widely-supported mindset in many other parts of Europe, such as France and Belgium.
Reinforcing sense of place:
High quality public spaces reinforce the city's sense of place, and underpins the mantra of 'rehabilitation, rejuvenation and regeneration'.   The quality of the public realm is widely acknowledged as being essential to the creation of environments that people wish to live and work in. High quality public realm can produce measurable benefits to the local economy, health, social well-being and safety, as well as enhance the value of adjacent real estate and encourage greater economic activity.  Research has shown that there is a positive, significant and consistent value added to private business by maintaining and improving the public realm. Research has also confirmed the health and social benefits of public realm improvements, particularly pedestrian-oriented environments.  For planners the provision of high quality public space has a fundamental role in supporting other Master Plan priorities, notably attracting and retaining more residents, businesses and jobs, and improving environmental performance.
'Free' space for all:
The city believes in a fundamental humanistic principle of 'free' public spaces, such as parks, plazas, and walkways that provide a literal 'common ground' and a level playing field that all members of Lisbon's population – residents and visitors alike – can enjoy by all regardless of age, social standing, wealth or employment status.  There is a recognition that in harsh economic times, such as Lisbon is going through at the moment (with average unemployment rates standing at 15%, and up to 35% in the under-25 age group) that such 'free spaces'  are essential to help combat socio-economic isolation and to promote a sense of pride and ownership in the city.  There is a view that they could also provide a beneficial 'safety valve' to help prevent economic frustrations from leading to anti-social or criminal behaviour.  Officials in Lisbon report that there has been a significant shift in the past few years towards more young people using public spaces and engaging more in  public consultation processes – not so much  because they are driven by an interest in formal politics, but more because they are interested in the future of the city.
Returning the waterfront to the people:
A major feature of Lisbon is the availability of 200km of waterfront, stretching north and south from the city centre and on the opposite side of the estuary. Lisbon's citizens have not been able to access long stretches the city's waterfront for decades, either because of physical or ownership barriers, or pollution.  For centuries Lisbon's waterfront been its main economic driver and source of its global influence & wealth, but it has become increasingly separated for its populace, as it has become increasingly  dominated by shipping and port-related activities, which then evolved further to include huge processing and utilities plants, warehouses and  container facilities. The majority of the waterfront land and buildings came into the ownership of either the Port Authority – a separate autonomous agency – or private owners, and hence were inaccessible to everyone except direct employees.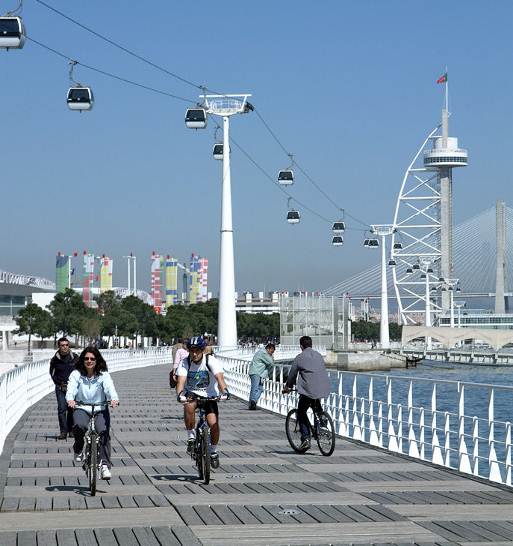 The city's World Expo site – built to host the 1998 Universal Exposition of Lisbon – to the north of the city opened up some 5km of heavily-polluted former industrial waterfront, and created a major new mixed commercial and residential district for the city – Parque das Nações.  With this as the catalyst and benchmark, the Municipality of Lisbon has developed a close working relationship with the city's Port Authority to develop a programme of 11 schemes to re-open up 19km of the city's extensive waterfront.
Promoting improved environmental and sustainability performance:
Lisbon recognises that, like all cities, it has a responsibility to improve its performance on energy-efficiency environmental sustainability.  Pollution is an issue in parts of the city, with particular known risks to cardiovascular and respiratory health amongst the urban population, and potential concerns for Lisbon's vital tourist trade (e.g. a reduced QUALITEST rating – a multi-indicator tool to measure, monitor and benchmark the quality performance of tourist destinations & services).  The city's micro-climate and morphology also makes it susceptible to significant urban heat island effects. Major infrastructure investment in the city's public transport systems – including a new modern underground system and construction of 75km of new bus corridors – are being supported by municipal greening interventions such as provision of more open spaces, development of 92km of pedestrian walkways and 161km of cycle lanes.  These are all ways of directly and indirectly improving pollution levels, reducing health hazards, reducing energy usage,  which  are reinforced through the Master Plan performance  targets for reducing energy, water and materials consumption.
Supporting earthquake protection measures:
Lisbon is very close to the Azores-Gibraltar Transform Fault which runs from Gibraltar west into the Atlantic, and separates the African (Nubian) and the Eurasian continental plates.  The fault-line has historically demonstrated complex and active tectonic behaviour, and was responsible for 18 significant earthquakes hitting Lisbon even before the November 1755 disaster. Earthquake resilient design and construction is the key protective measure, open public spaces provide large gathering & sheltering spaces where residents are safe from falling masonry.
3.2       A strategic approach

On-going and planned investment is proceeding at a range of scales, through both permanent and temporary interventions.  However, there is a clear recognition that financial constraints mean that the pace of investment in the public realm will have to be slower than in the recent past; and that rather than large 'signature' public realm schemes there now has to be more emphasis on smaller, more local-scale interventions. The city's residents' have been made well aware of this shift, not least by policy makers emphasising that much of the benefit from these investments will be reaped at the local community level.  Crucially, the city's leadership is showing strict discipline in its commitment to a highly strategic approach to public realm investment decisions. Investment is focused on:
Locations which are highly-visible and will be well-used by both residents and visitors – such as the city waterfront.
Locations or facilities which support other strategic objectives – for example the 11 'job clusters' in city neighbourhoods; in areas with high environmental amelioration potential; central bairros with declining populations and/or poor access to green space.
Interventions which have a high level of impact, but are cost-effective both in terms of initial outlay and long-term management and maintenance costs.
Opportunities where ownerships and interests can be pooled for maximum impact and benefit, including those of both other public bodies and the private sector.
3.3        Lisbon waterfront regeneration

The implementation of this strategic approach is exemplified by the regeneration of the city's waterfront.  The re-opening of the city's waterfront to the city's resident and visitor population is one of the seven strategic priorities of the new Master Plan. The previous 1994 city Master Plan designated the vast majority of the city's waterfront, apart from the Expo 98 site and handful of 'green leisure' zones, as Port Area of Special Uses.  The new Master Plan recognises that such sweeping reservation of the waterfront for solely port uses is no longer necessary.  The new Plan established a classification system for the city's waterfront which establishes four zones:
Areas without any current or foreseen port activity.
Areas without any acknowledged harbour use.
Areas worthy of further study & investigation as to their future uses.
A much smaller and consolidated area of Port Area of Special Uses.
The new Master Plan acknowledges the major barriers that main roads and railways have created for access to the waterfront. At some points, such as the south of the city, access from the rest of the city is blocked by both a two-lane highway and a major suburban railway line.  It also acknowledges that the waterfront line for the city has extended out further into the Tagus, as a result of infilling and the development of permanent quays and that this line should now be recognised as the true 'waterfront'.
Within this new planning framework the city has established a series of strategic objectives for the regeneration of the waterfront;
Reduce the impact of the main roads and the railroad system barrier, and focus on prioritising public transportation over private transportation.
Preserve and rehabilitate the national heritage, and promote connections between green space, city landmarks and other built heritage.
Promote new public spaces as well as culture, sport, leisure, tourist and commercial  activities.
Promote public participation in the development and river rehabilitation process.
Define the river-front as a priority area for the revitalization of city's image.
Create a single river-front image, in which the city's seven hills and the river are the main focal points
The Municipality of Lisbon and the Port Authority of Lisbon, a separate autonomous agency which controls much of the city's port-designated waterfront, worked together on Parque das Nações. The development of this new bairro began with the construction work needed to host Expo 98. The neighbourhood is now almost fully developed out and has set the benchmark for the city in the design and animation of rejuvenated waterfront areas.  More importantly it has also provided invaluable best practice and 'lessons learned' in delivery and notably in terms of the length of time required to fully develop-out a 'new' neighbourhood.
This experience has led to a much closer, and recently formalised, working relationship than was previously the case.  It is acknowledged by both parties that the new Master Plan could not have taken the final form it has without this close cooperation. The creation of the four-fold classification of waterfront land was accompanied by a strategic agreement to pool their public sector land and resources to facilitate greater leverage of private sector investment.  Judging on performance to date, this seems to have been a critical success factor for the city, and is likely to continue to be so for the foreseeable future. In the context of this strategic partnership working, the experience of Parque das Nações is now being applied in a programme of 11 schemes being developed along 19 km of the city's main waterfront.
This programme is very much recognised by officials within the municipality as a 'work in progress'. Schemes are at various stages of development, some are already complete, such as the Champalimaud Centre and the new public square at Praça do Comércio; some are being progressed through various stages of design and construction such as the new Cruise Liner Terminal (prioritised due to its immense inward tourism potential) and the international design competition for Alcântara Riverfront Square.  In the current climate of austerity, the on-going development and implementation of this programme will be a gradual process. But the strategic approach which now drives the programme is providing a very robust foundation and framework for more rapid and integrated progress as and when economic conditions improve.
3.4       Public events and activities

A parallel and contrasting component of Lisbon's refocused strategy is the development of a more structured programme of public events and activities.  These are a cost-effective and cost-efficient way of bringing life and animation into the city. Moreover, they are also on the whole accessible to the entire city population and have the advantage of bringing additional visitors to the city.  They are also an effective way of capturing the city's rich cultural offer, and of developing a permanent interaction with the city's identity and populace.  Developing repeat events – such as EuroFES (an annual European media industries conference) is a key element of this programme.
'Pop-Up Lisboa' – "live the city, celebrate its culture" – is a good example of a Lisbon-generated public event. This is an annual month-long programme of events, first held in Lisbon in 2009, dedicated to the promotion of urban culture and grounded contemporary art. It happens in vacant or abandoned urban buildings giving them new life through art. It is deliberately timed to take place over in the off-season (Nov-Dec or Jan-Feb) which are traditionally quiet periods for tourism and events.  The festival aims to generate interaction with the public in a cosmopolitan atmosphere of celebration and creative sharing, through gathering new talents and established artists in a cultural and dynamic program developed in permanent interaction with the identity and population of the city where it takes place. both new and established artists from across the globe participate in a dynamic cultural programme.  The festival's name comes from the focus on using temporary spaces in abandoned or vacant urban buildings, often long-forgotten or unused as venues.
In line with the municipality's ethos of encouraging active citizenship, the majority of events are open access.  Those that are ticketed are either low-cost or free, with distribution via media platforms such as competitions on Festival and sponsor websites, Twitter, and Facebook.  For the 2010 'urban nomad' themed festival, the public were allowed to select the 10 finalists in a competition searching for new and emerging urban artists, with each one given Euros 10,000 in order to create a bespoke piece of work for the city.
In 2012 German car giant Volkswagen used the Festival to launch a new urban car (called 'Up!') by hosting their own week-long programme of events, including concerts, films, and workshops. Thus the Municipality was able to intelligently align a major international sponsor's brand and commercial aspirations with the strategic ambitions of both the festival and the city itself.
3.5  Imaginative temporary uses of public space
Lisbon's innovative approach to improving the public realm also features the use of basic but cleverly designed temporary inserts in public spaces.  The public transport interchange at Cais do Sodré, located directly on the seafront just south-west of the city centre of Lisbon, is a good example.   There a busy railway station, numerous tram stops and a busy bus station are co-located next to a promontory, the Jardim das Oliveiras, which enables good vistas of the city and the 25 de Abril bridge.  A cheap, easy to maintain and user-friendly intervention was required to accommodate leisure visitors taking in the views & sunshine as well as those waiting for public transport.  The solution is the 'Portable Garden', first presented at the Valencia Biennial in 2003: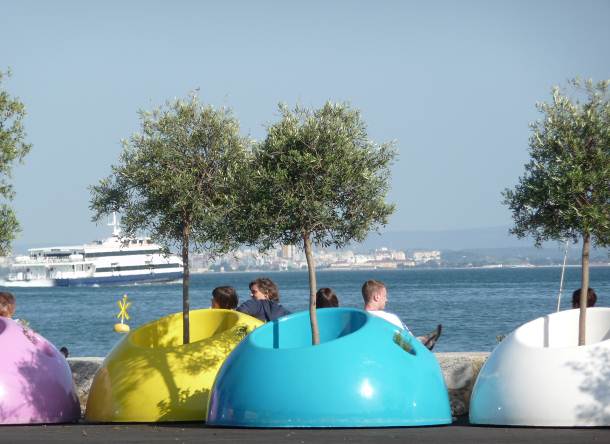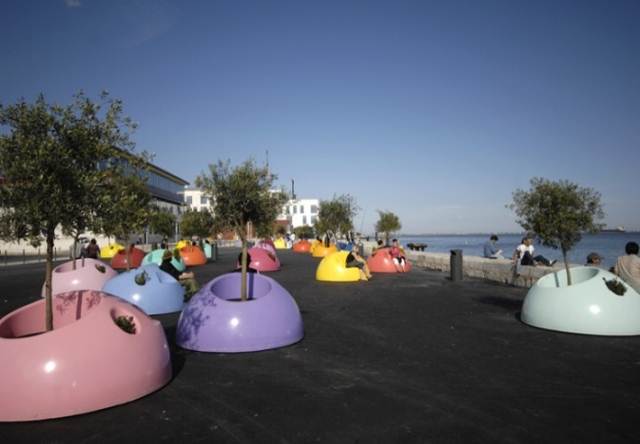 This concept comprises a range of stand-alone portable glass-fibre and polyester resin structures – such as combined tree-planters and seating in a range of vivid colours, which can be arranged to suit any space.  At Cais do Sodré the Municipality have supplemented this with soft bean bags, pouffes and cube-tables in matching colours to further animate the space in a playful yet practical, flexible and cost-effective manner.  Its popularity with a broad section of society is easy to see, even on days with less favourable weather.