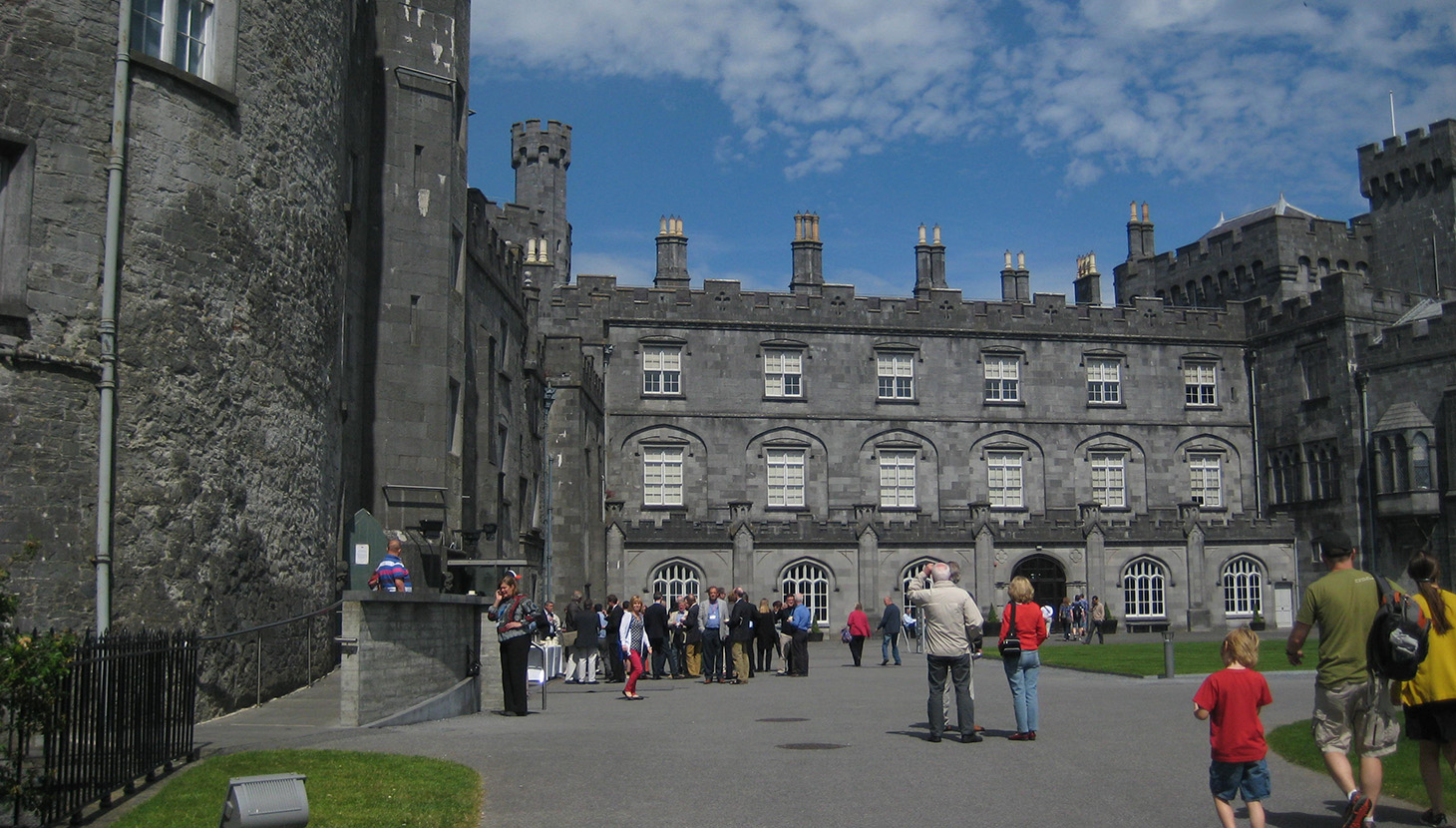 Introduction
The RIAI and the Academy of Urbanism held a joint colloquium in Kilkenny on 19 June as part of the RIAI urban design CPD programme. The format of this event was planned as concerning urbanism at a 'high level', covering broad principles and issues. This is distinctive from the Academy's recent Mallow Colloquium 2014 and the proposed Drogheda Colloquium planned for September 2015, which both focus on a specific place. It is hoped that similar events to the Kilkenny colloquium can take place, possibly in Cork and Dublin, as annual events over the next two years.
Programme
View speaker line-up
Following formal introductions and welcomes, the programme consisted of four sessions:
Session One focused on Kilkenny with presentations by: Denis Malone, County Planner; Tony Reddy, Academy Director, on the Brewery Quarter Masterplanning Process; and Paul Young, founder of Cartoon Saloon, on the creative local economy.
Session Two took a broader, more regional perspective and included presentations by: Martin Colreavy, Department of Arts, Heritage & The Gaeltacht, on the achievements of the Government Policy on Architecture with emerging guidance; Grainne Shaffrey, Shaffrey Associates on Protecting and Conserving our Urban Fabric; and Simon Wall, Town Architect, on the Westport approach.
Session Three considered emerging themes in Ireland: Owen O'Doherty, Deputy Dublin City Architect, spoke about the processes, research and experimental techniques used by Dublin City Council to improving liveability in our Cities and Towns; Tiago Oliveria, Transport Planner with Arup, gave an interesting perspective on movement and place; and Arthur Acheson, Chair of the Ministerial Advisory Group, led a walking tour exploring what Kilkenny has to offer and spoke about how this can be 'unmanaged'.
The final session was a keynote address by Prof. Wulf Daseking, former City Planner of Freiburg, Germany and Honorary Academician. This was held by a Skype link with a Q&A session, as the professor was unable to attend in person for logistical reasons.
Summary
The colloquium covered a broad perspective of urbanism, with most of the 70-plus attendees having a high awareness of the general principles and goals of urbanism as a product / end result. Therefore the focus centred around the process of urbanism. Tony Reddy explained the masterplanning process for the Brewery Quarter as having to adapt and respond to the archaeological and historic discoveries made during site investigations.
Owen O'Doherty talked about the research that has taken place on the design process, which has informed the approach used by Dublin City Council to encourage public awareness in design. O'Doherty also talked about how the research has been implemented in terms of urban interventions: small temporary experiments have been used to test out ideas, which has tackled the issues of limited available resources and the benefit of investing in projects. Simon Wall echoed these points and also about the role of an effective professional team. Professor Wulf Daseking explained the processes used by Freiburg City planners and the importance of doing things well the first time.
This led to a discussion on whether a 'design champion' is essential, specifically what alternatives there are if such a position is not possible, for example, due to funding. The consensus was that a 'design champion' is essential – but that this is a long-term role and may involve several people and disciplines working together over an extended period of time. Reference was made to 'village design statements' as support aids for smaller communities with limited resources, although there was some comment that these were quite technical and not user-friendly for the lay person.
Several themes for future colloquium were suggested, as well as areas where the Institute could provide a leading role in developing further thinking. In conclusion, the event was extremely productive in revealing the underlying issues that need to be considered to achieve a high quality urban living environment.
Owen O'Doherty emphasised the importance of this to the Irish economy, with many Foreign Direct Investment firms seeking to attract employees to a place that they feel safe in the street, have a nice place to live and can enjoy themselves.
Sponsors/Partners
The event attracted a substantial number of Academicians from both the UK and Ireland, from a variety of professions. Steven Bee, Chair of The Academy of Urbanism, and Kevin Murray (former Chair and also Former RTPI president) both participated in the event as speakers and as part of the Q&A with Professor Daseking.
The event was also sponsored by Stonepave UK and Country Manor Bricks. The venue and catering was excellent, as was the weather. Finally, the organisational support from the RIAI was excellent – a big thank you to all!
Report produced by Academician and Convenor for Ireland Philip Jackson AoU, Scott Tallon Walker