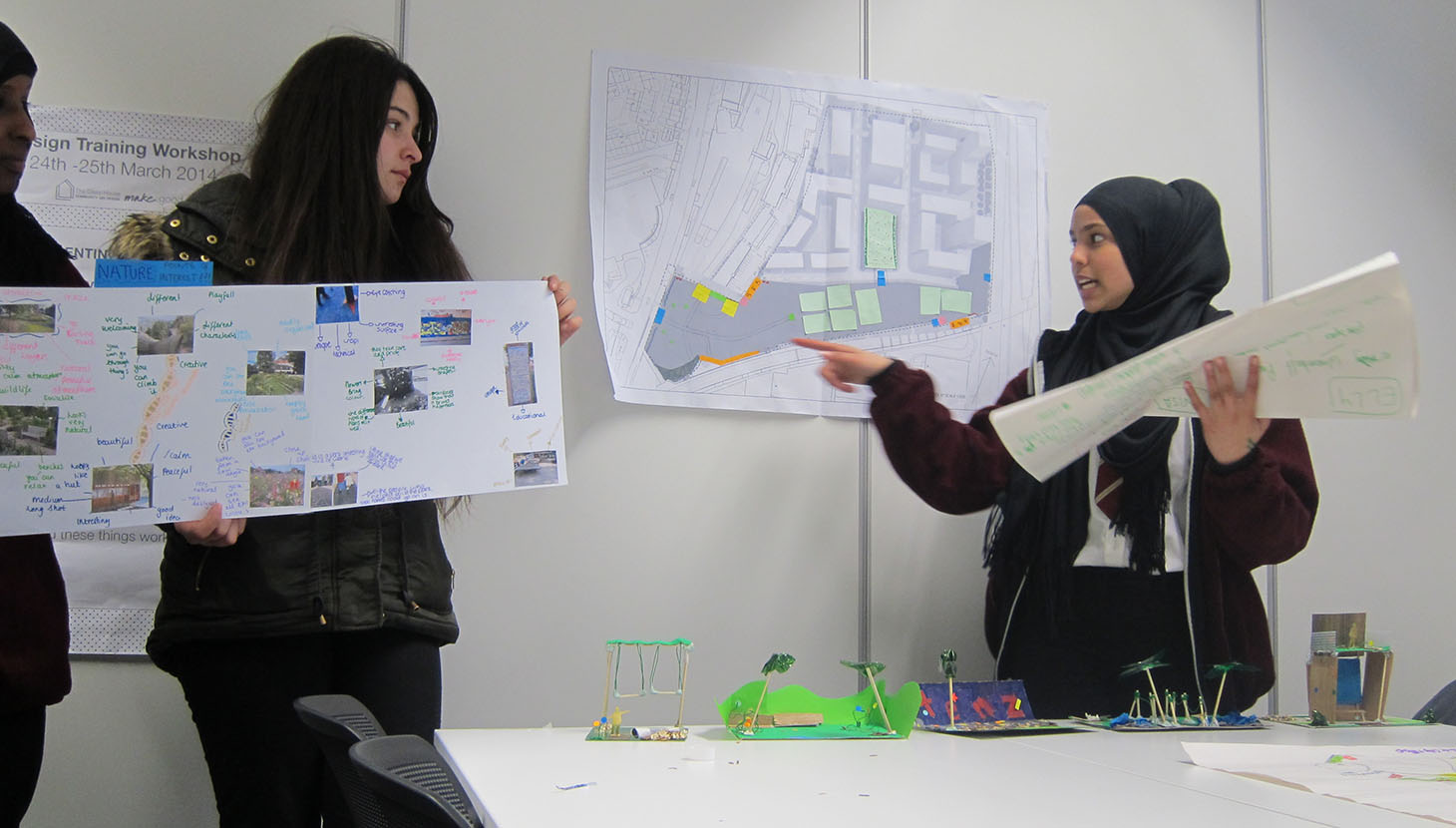 Children and young people are not just our future, they are also very much an important part of our present, moving through, inhabiting and interacting with our built environment, just as adults do. Drawing from the experience of working with developers, Sophia de Sousa AoU and Louise Dredge of The Glass-House Community Led Design make the compelling case for better engaging young people in placemaking.
According to the 2011 census, children and young people under the age of 25 represent almost a third (30.7 per cent) of the UK population, making them a key audience and user of our spaces and places.
The views, concerns and aspirations of children and young people should not only be sought, but valued as an essential part of setting an informed brief for how we shape and improve our villages, towns and cities. Placemaking provides opportunities not just to enhance the quality of our places, but to empower and inspire children and young people about their potential and the potential of their environment.
Hard to reach or not reached?
Engaging children and young people in placemaking is often seen as a challenging enterprise, with those leading design processes struggling to find the right approaches and mechanisms to empower children and young people to participate in and influence the decisions that affect how their places are shaped. In our experience of working amongst a wide range of stakeholders involved in shaping places, we've come across many instances where in placemaking processes, engagement activities are held either at times at which children and young people are not readily available to participate, or in ways that are neither attractive nor accessible to them.
Younger children in particular are often treated not as participants, but as a logistical problem to solve by offering childcare activities that liberate their parents and carers to engage, but that effectively remove children entirely from the conversation. This is missing a trick. Children's acute observations often offer a much more immediate commentary on the impact of the quality of our places on our daily lives.
Take the example of a very young girl who participated in a walkabout to assess a housing estate, led by The Glass-House during an engagement event run by the social enterprise LS14 in Leeds. When we found ourselves at the top of a large green hill, the girl told us how much she loved rolling down it. It was a shame, she said, that at the bottom of that hill there was a large patch of nettles. The rolling down bit was great fun, she said, the landing at the bottom, was not. This, perhaps, was only a small cosmetic problem for adults but it drew attention to an issue that had been affecting local children's use and enjoyment of a local green space and which was an easy problem to solve with better upkeep and maintenance.
The tendency to engage young people in isolation can also have its limitations.  Many young people have complained to us of having been asked their views, but having had no opportunity to enter into a dialogue about how their needs and aspirations are shared or conflict with those of other age groups. In 2007 and 2008, we held a debate series in partnership with the Young Advisors Network to probe the question: Are we designing young people out of public space? The message from young people who participated was clear: don't isolate us physically through the design of public spaces, nor in the decision-making processes involved in their creation.
When children and young people are brought together with other age groups to look at design and placemaking questions from a range of perspectives, there is potential to develop a much more comprehensive picture of local views and needs. A Mega Soft Play Day organised by a group of mums in Tidworth in Wiltshire (with the support of project partners in the Unearth Hidden Assets research project: The Glass-House, the Open University, Wiltshire Council and the Army Welfare Service) provided a unique opportunity for children, parents and carers to engage in a range of play activities and get involved in informing future play provision in their town. A creative corner for dreaming up designs for play spaces, engaging voting stations for play activities and environments, one-to-one conversations and an online survey were just some of the mechanisms used to gather a wealth of data on a community's interest in play activities, understanding questions of access, affordability and the popularity of different activities. This model of activity, engagement and research can gather valuable data, test ideas, support network building – all crucial to shaping places well – and while doing so, provide a valuable local service or activity.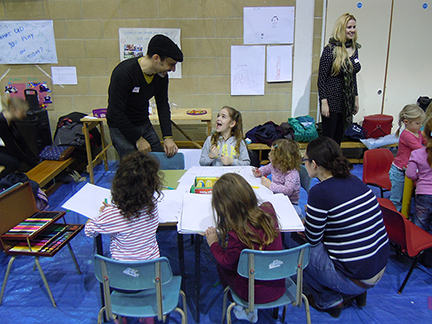 Empowering through placemaking
"I like how I get to learn and think about things in a new way."
(Student from Sacred Heart Catholic School, near Elephant and Castle, London)
Engagement in design and placemaking also offers a tremendous opportunity for empowering children and young people with new skills, knowledge and confidence. Engagement done well can empower them to be both more constructive contributors to local decision-making on design and placemaking, and at the same time embed life skills and a sense of agency that will help them become more engaged and active citizens and contributors to the success of their places.
Working with developer St James of the Berkeley Group, The Glass-House delivered what we see as an important pilot for testing how a development process can give young people a role in the design of a local development, and empower them with life and employability skills. We engaged with over 30 Year 10 students from Phoenix High School in London's White City neighbourhood, in a four-month programme that aimed to inspire and empower local young people in and through changes to their neighbourhood. The students learned about design, regeneration and development through a series of hands-on workshops and site and study visits; developed design ideas for a new public open space which they presented to the project architect and the Board of St James; gained career insight, advice and work experience placements; and met with local business owners and interest groups to explore the impact and opportunities of new developments in the area.
"My experience in the White City project was fascinating. It has helped me improve many skills, in particular communication and confidence skills."
(Sumeya, student from Phoenix High School, White City)
In another partnership project in south London, we used media and design to help young people in Elephant and Castle to explore their relationship with their environment and share ideas for the future of their place, in connection with a large multi-stakeholder regeneration project. Through a combination of activities designed to raise awareness and confidence about their relationship and role within their neighbourhood and specialist training in media production, the students produced high quality creative outputs, using them to express their views on their environment with clear and powerful messages. The students' reflections revealed a more nuanced understanding and engagement on a range of issues, from civic responsibility to art, design and nature:
"I learned and noticed how places can intentionally and accidentally exclude or include people and groups."
"The rain first brought the emotion of gloom but I then felt the rain on my skin and realised that each raindrop was a story. Each photograph captured these memories and in that created new memories."
"The most memorable thing I learned today is that our opinions and voices actually affect the place around us."
In this instance, as in White City, the primary goal of involving young people in placemaking was to unlock opportunities and skills for young people through creative, open collaboration between private, public and third sector organisations.
Connecting children and young people with the design of a new state-of-the-art facility dedicated to supporting and caring for their health and wellbeing, was a crucial part of the development of the award-winning Alder Hey Children's Hospital (Alder Hey in the Park) in Liverpool. Their consultation brought together ideas from almost 1,000 patients and a Children and Young People's Design Group made up of current and former patients helped to inform detailed design decisions throughout the process. The overall concept for the new hospital's design was inspired by a drawing by 15-year old Eleanor Brogan, a former patient of the children's hospital. Her contribution was not only catalytic in terms of informing the design of the complex, but empowered Eleanor as a contributor and champion of the project. Speaking about her role in the process:
"I was a patient here when I was 14 years old and I wanted the new hospital to have open spaces, greenery and natural light. When I drew my picture seven years ago, I didn't expect I would play such an important part in the design of the new Alder Hey. Since then I have been involved in many amazing design decisions and I'm really excited to show the facility to some of the patients who are going to benefit from this fantastic new hospital."
In placemaking, we have a responsibility to respond to the needs and aspirations of children and young people, just as we do for adults, and provide opportunities to engage, inspire and invest in them as active citizens and contributors to both our present and our future. Children and young people have a huge amount to offer in helping to define the shape of our places. We should do more to unlock and enable their knowledge and ideas to create more inclusive and delightful places and spaces for everyone.
Sophia de Sousa AoU is chief executive of The Glass-House Community Led Design.
Louise Dredge is a Young Urbanist and is head of creative engagement at The Glass-House Community Led Design.
For more information on The Glass-House projects referenced go to: theglasshouse.org.uk/stories
Information on the transformation of Alder Hey available here: alderhey.nhs.uk/alder-hey-in-the-park-designed-by-children-for-children/