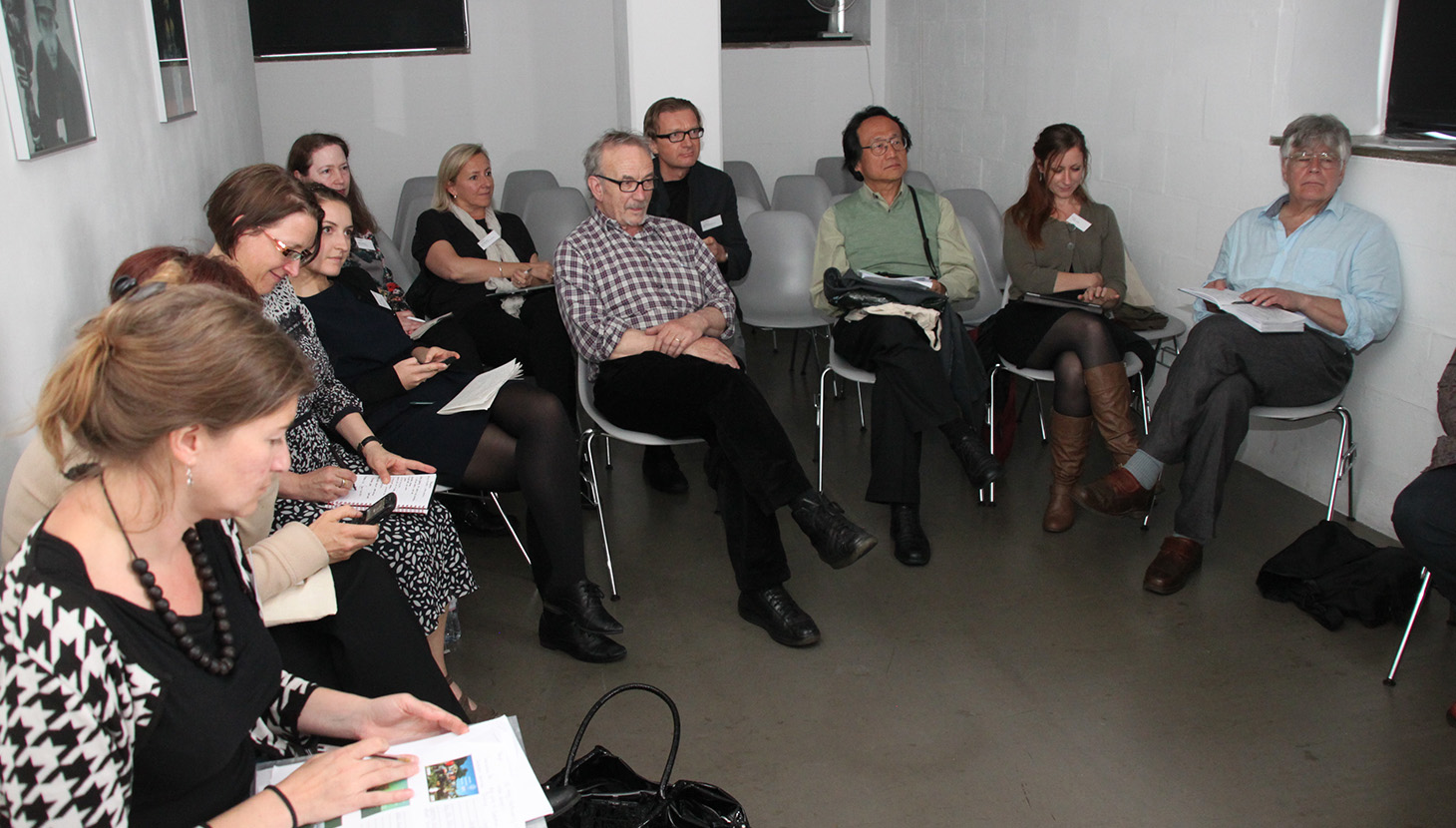 Words by Francesca Perry, Young Urbanist
Led by Jeremy Iles, Chief Executive, Federation of City Farms & Community Gardens; Joy Carey, Author of 'Who Feeds Bristol?
The food resilience workshop was facilitated by Jeremy Iles of the Federation of City Farms and Community Gardens (FCFCG), Rachel Harries of organic farming charity Soil Association and Mary Clear of local food-growing campaigners Incredible Edible Todmorden.
Food resilience has been a key topic for the Academy this year, featuring also in the Young Urbanist Network's series of events on 'Imagining the Future of Food in Cities' looking at issues of production, access and consumption. This workshop offered the opportunity to dig a little deeper in to the topic, linking this back to the notion of resilience.
Jeremy and Rachel painted a picture of our historical relationship to food production in the UK, from the 'Dig for Victory' campaign in World War Two – in which people got involved in growing local food to feed the nation sustainably – through to the current domination of 'monolithic and monocultural' industrial agricultural practices. However, what organisations like the FCFCG want to encourage today is a return to the focus on 'real' farming, in which communities grow their own food and economic aspirations involve local jobs rather than corporate profit.
Whilst globally 70% of people are fed by natural agriculture and 30% fed by industrial agriculture, the latter receives 95% of the funding. With 1 billion of the world's population chronically undernourished and rising, Jeremy believes we need to think differently about agriculture and start prioritising health and wellbeing over money.
The FCFCG's work is about community development and empowerment. The federation includes 65 city farms and 2000 community gardens across the UK – as well as a large number of allotments.
Jeremy explained that access and funding have both been issues for community food-growing ventures. Whereas urban agriculture projects may have access to money and people but not enough access to land, rural agriculture projects have access to land but not as much money. Following community problems with accessing and using land, the Federation set up the Community Land Advisory Service (CLAS), a collaborative service aiming to increase access to land across the UK.
In order to have a productive food chain, community groups need to generate income. One model followed is the membership-based CSA (Community Supported Agriculture), based on ideas that growers and consumers share the risks of farming. There are 100 CSA projects in the UK. Benefits of the scheme include the fact that local food can be resilient to price increases – and that the community is engaged in it.
Fordhall Farm in Shropshire used community shares and finance to launch, raising £800,000 – but this kind of success is not always replicable. One option is putting a farm in to community ownership and running it as a social enterprise to make it more economically viable. 'Future Growers', a scheme run by the Soil Association, provides training in organic horticulture to aspiring young farmers that need support to set up projects and businesses.
Incredible Edible Todmorden is a community initiative that has gained both national and international momentum and acclaim from its roots in a post-industrial town in West Yorkshire. It campaigns for local food grown in participatory, accessible and creative ways. Mary Clear, a co-founder of the initiative, expressed her desire to do what's right for the community and for the environment: 'it's always better to ask for forgiveness,' she said of their guerrilla food growing, 'than to ask for permission.'
Incredible Edible's tactics have taken seed in 60 other communities across the UK and some in mainland Europe, proving their motto: 'if you eat, you're in'. Indeed, inclusivity is at the heart of the initiative: as food crosses class, culture and age, it is a tool that brings people together.
Incredible Edible Todmorden activities include:
Cooking in the street (thus encouraging social interaction)
'Propaganda' gardening (planting of edible food in public spaces)
Food growing in schools
Teaching the 'lost arts' of jam making, pickle making, how to skin a chicken, etc.
Helping local businesses through two not-for-profit companies that teach horticulture
Incredible Farm, a permaculture training centre.
Incredible Aqua Garden, which teaches about aquaponics and hydroponics
The initiative believes there are three ingredients for a stronger and more sustainable town: learning, community and local business, all of which can be involved in the food growing process. The Incredible Edible network demonstrates the power and the potential of small actions – that can be taken by anyone.
In the discussion, a participant suggested farmers should rent out parts of their land to young growers to create mutually beneficial clusters of enterprises. The collaborative scaling up of food growing initiatives was thought of as a key way to sustainably feed cities as well as the countryside. Furthermore, a peer-to-peer intergenerational approach was deemed valuable.
As the session concluded, attendees agreed there is a range of emerging complementary trends – people are working together and need to encourage others to move from being passive to being active. Some people don't know that they can do it – and we need to empower them.