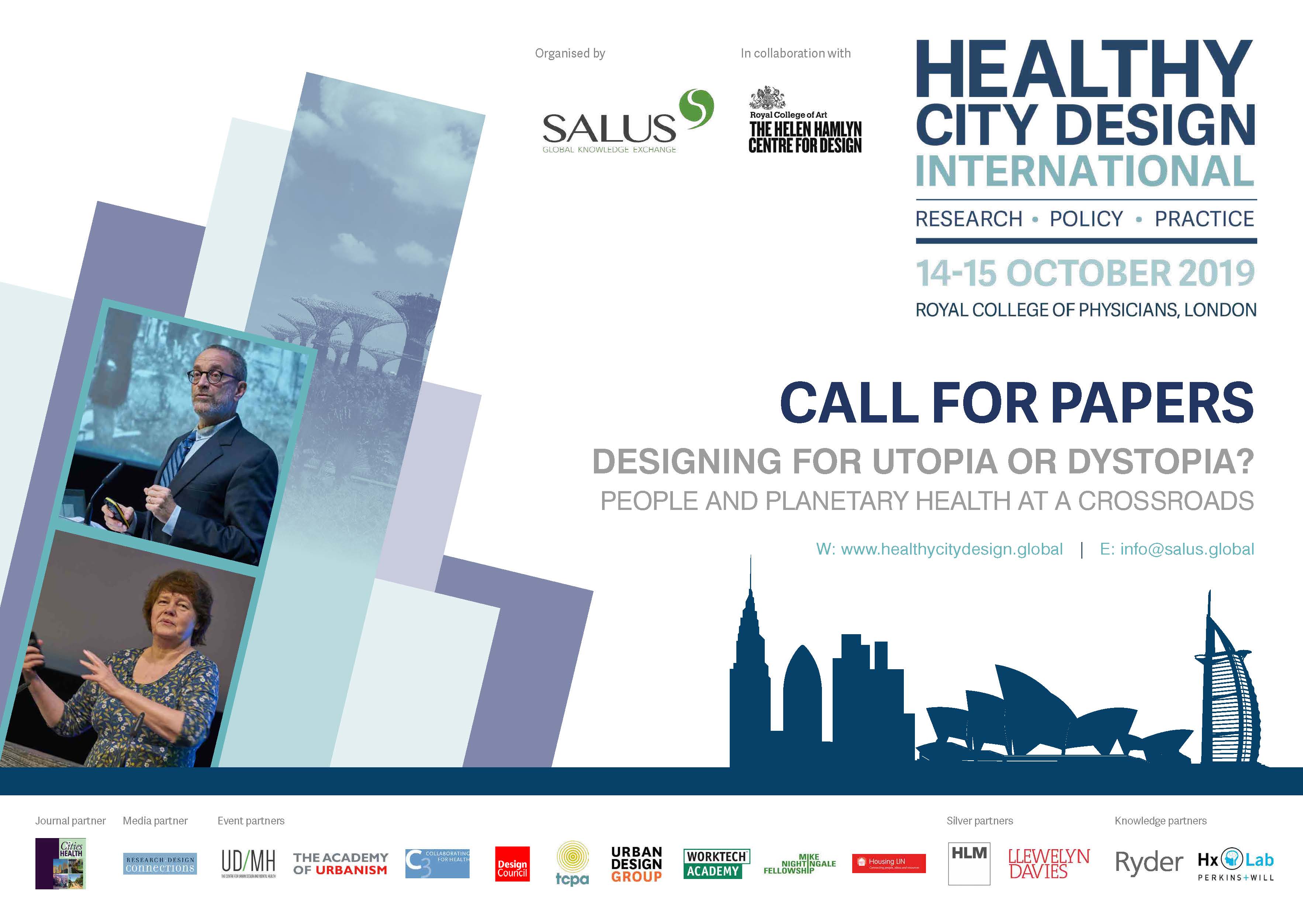 Deadline extended to 29 May
The Call for Papers for the third Healthy City Design 2019 International Congress & Exhibition has been launched under the plenary theme of 'Designing for utopia or dystopia? People and planetary health at a crossroads'.
Organised by SALUS Global Knowledge Exchange in collaboration with the Helen Hamlyn Centre for Design, Royal College of Art, the Healthy City Design 2019 (HCD 2019) International Congress & Exhibition seeks to share and stimulate new research, innovative practice and progressive policy ideas on how to design for health, wellness and sustainable development in our cities and communities.
Taking place at the Royal College of Physicians on 14-15 October, Healthy City Design attracts around 350 delegates from 25 countries.
Against a background of global climate change, healthier cities and communities are shaped by taking tough decisions on issues such as air quality, resilience planning, spatial strategies, working practices, active travel, sustainable homes and green spaces. How can we design a thriving, health-inducing future for all citizens – and avoid a dystopian alternative where our cities descend into crisis and chaos?
SALUS invites you to contribute and participate in the exchange of knowledge on the design of our future cities. Abstracts for the presentation of papers, posters and workshops should be submitted by 29 May 2019 at www.healthycitydesign.global.
Theme
The third Healthy City Design International Congress will address the question of designing for utopia or dystopia. In a world where the effects of population migration and ageing play out amid rapid urbanisation, how can we support cities to take a healthier path? How can we ensure that despite the best intentions of policymakers, urban planners, public health professionals, architects, designers and developers, our worst dystopian nightmares don't come true?
Streams:
Homes and neighbourhoods
Nurturing and sustaining health, wellbeing and quality of life
Urban design, placemaking and the public realm
Promoting healthy, active lifestyles and social inclusion
Mobility, travel and transport
Designing ecological and accessible systems and modes of travel
Smarter cities
Health improvement at the intersection of art, design and technology
Sustainable development
Reconciling economic development with the preservation of natural systems
Work and workplace
Creating thriving work environments and wellness programme