We are delighted to announce two study trips taking place on day one of Congress, Thursday 4 June 2015.
Delegates will get the choice to visit either Park Central and Bournville Garden Village, or travel by boat to see recent canalside development, Brindley Place and Icknield Port Loop. Here, we delve deeper into what the visit to Icknield Port Loop and Brindley Place will include.
Brindley Place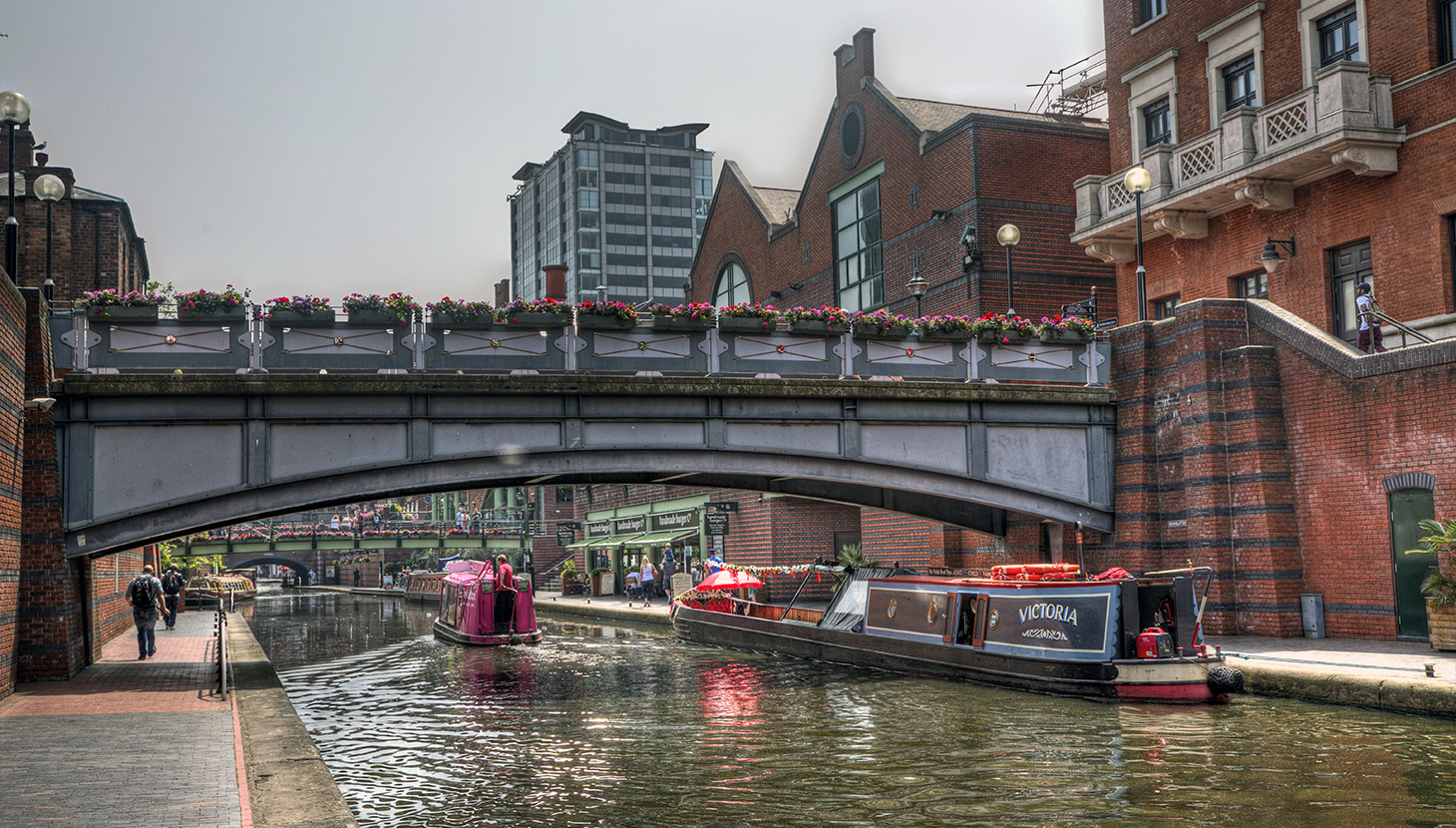 (Image: Peter Spowage)
Returning to the city centre, we will pass through Brindley Place, a large mixed-use canalside development in the Westside district of Birmingham, before heading out to Five Ways to see the results of major development from the noughties and hear more about future plans.
Brindleyplace comprises an architectural delight of landmark mixed use buildings built around three attractive public squares – Brunswick, Central and Oozells. Alongside this the estate includes The Water's Edge, The Crescent Theatre, National SEA LIFE Centre and is positioned adjacent to Birmingham's first city centre residential development, Symphony Court.
The area now occupied by Brindleyplace was, at the height of Birmingham's industrial past, the site of factories. By the 1970's, however, as Britain's manufacturing went into decline, the factories closed down and the buildings lay derelict for many years.
Icknield Port Loop
Join us as we travel by boat to Icknield Port Loop. The 22.5 hectare site is currently dominated by vacant industrial premises but, according to Birmingham council, is also "one of the largest redevelopment sites in the City [and one that] represents a major opportunity to create a high quality canalside scheme of regional significance."
"Development at Ickneild Port Loop will also strengthen connections between the City Centre and the Edgbaston, Summerfield and Ladywood areas. It will deliver significant local recreational benefits and stimulate the local housing market."
This Development Framework contains a number of key proposals, including:
Redeveloping Icknield Port Loop as a high quality, family orientated, mixed use scheme, promoting and enhancing the canals and links to Edgbaston Reservoir for visitors and leisure users.
Redeveloping Ladywood Middleway / Ring Road frontage for a high profile, mixed use scheme with community and leisure uses.
Protecting and enhancing the Edgbaston Reservoir (a Site of Importance for Nature Conservation (SINC)), including creating a Water Activities Centre, Visitor Interpretation Centre and redeveloping the Tower Ballroom in the longer term.
Please note that a new Masterplan is currently being prepared for the wider Icknield area.
This visit will take place on the afternoon of Thursday 4 June 2015. Join us and a host of other city experts speak at the Academy's 10th Annual Congress taking place over 4-6 June 2015 in Birmingham. Congress Information