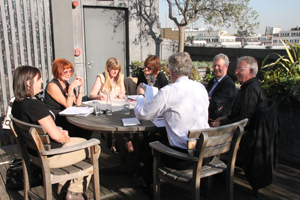 Shortlisting event for the 2014 Urbanism Awards
17 April 2013
14:30-18:00
Hosted by Grosvenor
70 Grosvenor Street
London W1K 3JP
We are delighted to invite Academicians to come together to judge which of the nominations received for the 2014 Urbanism Awards will progress through to the shortlisted-stage.
Ten places in each of the five categories have the opportunity to impress Academicians on their merits and reach this exciting next stage, after which the Academy will invite all 520 Academicians to vote on their top-three in each category. The event is an opportunity for Academicians to flex their skills and knowledge on a range of areas, covering the Academy's assessment criteria:
Governance
Local Character & Distinctiveness
User-friendliness
Commercial Success & Viability
Environmental & Social Sustainability
Functionality
Once again, the shortlisting event will be followed by our Spring Reception & Debate, which is being kindly hosted by Grosvenor. A panel of experts will be drawn together to challenge and dissect the theme of Garden Cities. The Debate & Recpetion will take place from 18:00 onwards on 17 April 2013 in London – for more information and to register your interest in attending, please contact Stephen Gallagher.