Porto was voted European City of the Year at the 2020 Urbanism Awards. The Portuguese city took home the award ahead of Utrecht in the Netherlands and Sheffield in England. Councillor Pedro Baganha of Porto City Council collected the award at the Urbanism Awards Ceremony in London.
The award is one of five given out each year by The Academy of Urbanism, a network of built environment experts from across Europe. They recognise Britain and Ireland's best place, street, neighbourhood and town, as well as Europe's best city. Voted on by its members, the Academy judges against a number of social, economic and environmental factors, including good governance and commercial success.
The theme of this year's Urbanism Awards is 'inclusivity' and welcomed nominations from places that demonstrate the value of diversity and illustrate the power of good urbanism to bring people together.
Judges commended Porto for successfully striving to balance economic development with social inclusivity despite the various constraints that the municipality works within: "The Municipality of Porto takes an active role working with neighbourhoods and communities, including providing social support for the more vulnerable and through housing improvement programmes. The municipality is currently developing several social housing pilot projects to test various procurement processes, including public-private partnership, direct investment and in-house design as the first steps in a longer-term programme to create high-quality urban housing in the city. The Municipality also runs cultural programmes for different groups, including an arts programme for older people to counteract isolation and loneliness."
Porto is continuing its long tradition of being innovative, internationally outward looking, friendly and welcoming. The city values its unique character, identity and rich heritage as a cultural asset. With its progressive, pro-active municipality, it is successfully creating a balanced, sustainable, connected city for the future and an attractive place for people to live, work and enjoy.
David Rudlin, chair of the Academy, said: "Porto really grabbed the attention of the judges this year because of the way that it has turned itself around since the 1990s. It is now a friendly and incredibly welcoming cosmopolitan city that attracts people from all over the world as a basis for a highly innovative economy".
Elsewhere, the four remaining categories – town, neighbourhood, street and place – celebrated UK and Irish finalists. Penzance in Cornwall was named the winner of The Great Town award over strong candidates Brighton and Dundee.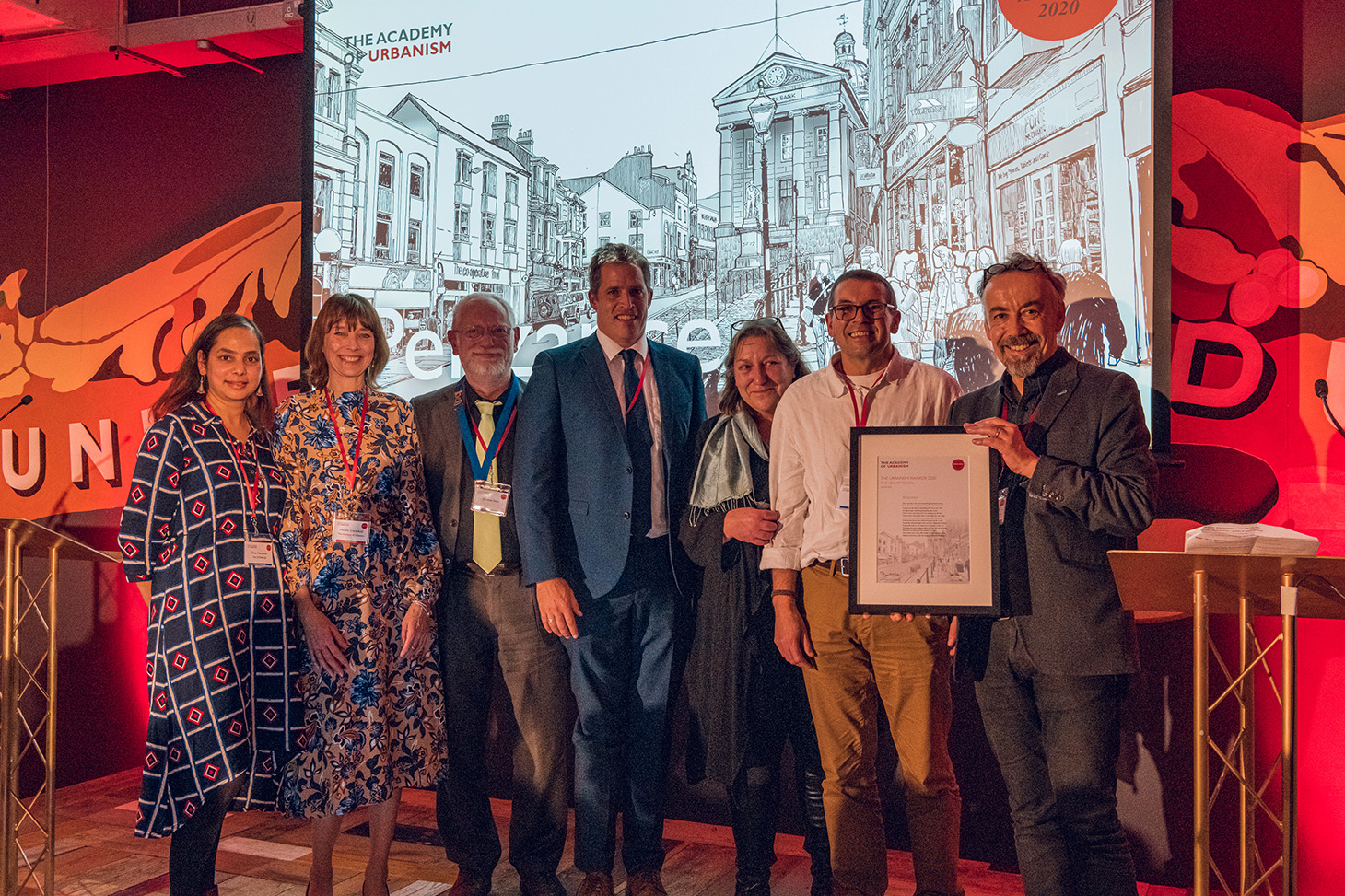 Lead Assessor for The Great Town Award, Michele Grant, commended Penzance for prioritising strong and meaningful relationships with the community. "Community engagement and participation sits at the heart of the approach to turn around Penzance's fortunes. The Neighbourhood Plan has been extremely well used as a catalyst to achieve that". The Regeneration Partnership isn't led by the council but is genuinely being driven forward by a collection of local visionaries with support from the community and through good community engagement.
In the neighbourhood category, Portobello in Edinburgh won The Great Neighbourhood award against Manchester's Levenshulme and Leeds' South Bank.
The assessment team commended Portobello for being an exemplar of the strength of local individuals and groups that create positive change. "Portobello confirms that positive change can be led by strong but diverse community involvement, especially when there is a real commitment to and passion for the local neighbourhood by its residents. It is the strength of local individuals and groups that is the force driving this area forward." The assessors also recognised the sensitive and responsive council policy. In an area with such a strong community input the council policy needs to be even more sensitive to the distinctiveness of an area and responsive to community action and reaction.
St Mark's Road in Bristol received The Great Street Award edging out London's Rye Lane and Belgrave Road in Leicester.
Described as a 'cultural crown' by judges, the assessment team noted, "This street is diverse, popular and full of delight. It is a perfect example of community-led urbanism. The local community have achieved success in terms of identity, culture and vitality. The street creates cohesion across many cultural backgrounds and this mixed group are well served by the local business and the quality of street life here".
In a tough Place category, Belfast's Connswater fought off strong competition from Nottingham's Old Market Square and Seaburn in Sunderland.
Speaking on the Connswater Community Greenway, David Rudlin said "While it may have started life as a flood defence scheme the greenway in Connswater has created a high quality area of public realm that has really brought communities together. What is so extraordinary is the way that all of this has been majored from such humble ingredients".
The Urbanism Awards were presented at a ceremony in London on Wednesday 27 November 2019 and were sponsored by U+I, Grosvenor, JTP and Savills.
-ENDS-
---
For more information, interviews with winning entrants and awards ceremony photographs, call Delano Bart-Stewart on 0207 251 8777 or email at dbs@academyofurbanism.org.uk. For more information about The Academy of Urbanism, visit: www.academyofurbanism.org.uk.
Notes to Editors:
2020 Urbanism Awards finalists (winners are asterisked):
EUROPEAN CITY OF THE YEAR
Porto, Portugal*
Sheffield, England
Utrecht, Netherlands
THE GREAT TOWN AWARD
Brighton & Hove
Dundee
Penzance*
THE GREAT NEIGHBOURHOOD AWARD
Levenshulme, Manchester
Portobello, Edinburgh*
South Bank, Leeds
THE GREAT STREET AWARD
Belgrave Road, Leicester
Rye Lane, London
St Marks Road, Bristol*
THE GREAT PLACE AWARD
Connswater, Belfast*
Old Market Square, Nottingham
Seaburn, Sunderland
The process
The Awards are open for nominations from anybody. The Academy shortlists 50 places across five categories, which are voted down to three finalists in each category by Academy members. The Academy then visits and assesses each of the 15 finalists before the final vote.
About The Academy of Urbanism
The Academy of Urbanism brings together thinkers and practitioners involved in the social, cultural, economic, political and physical development of our villages, towns and cities across Great Britain, Ireland and Europe.
The Academy was formed to extend urban discourse beyond built environment professionals, and to create an autonomous, politically independent and self-funded learned voice.
It recognises, promotes and learns from great places. For more information about the Academy, visit: www.academyofurbanism.org.uk.