The Netherlands has long been hailed as the prime example for safe and easy cycling. Henk Bouwman, urbanist and AoU director, and Anita Dirix, a specialist on the integration of bicycle infrastructure, draw on experience within their native country to suggest how London might benefit from a cycling renaissance.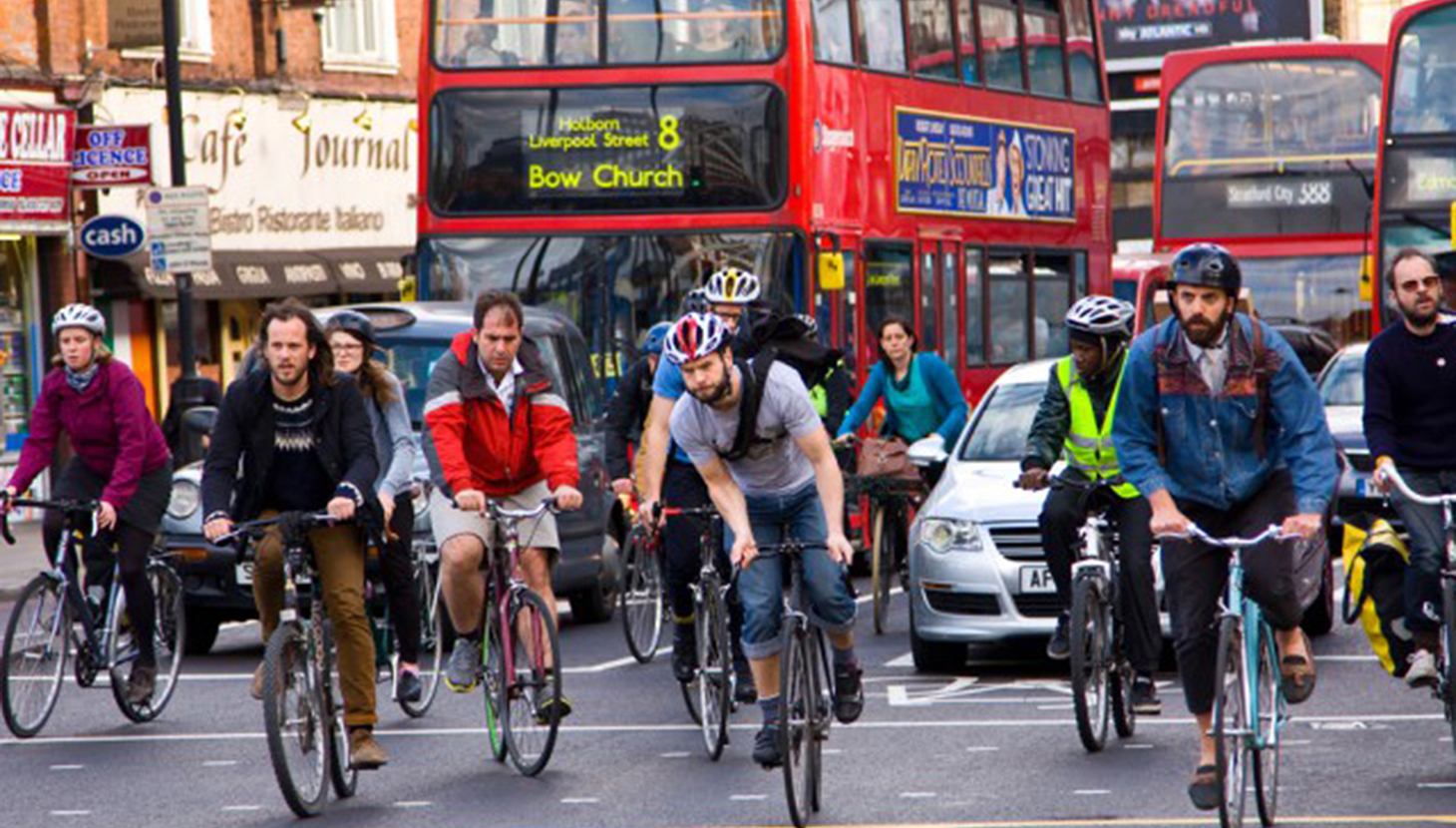 As Dutch urbanists who work regularly in London, we are impressed that it has become a city of opportunity for our pedalled friends. Rather surprisingly to us, with mayor Boris Johnson an avid cyclist, the term 'Dutch' has apparently become something positive as opposed to 'going Dutch', a 'Dutch treat' or 'Dutch courage'. Things have changed and London wants to go Dutch in cycling, turning three outer-London boroughs – Enfield, Kingston and Waltham Forrest – into Mini Hollands. Over £900m will be spent on this programme over the next decade, which TfL says will "transform local cycling facilities and encourage people to take to two wheels".
Cycling has therefore become a serious business. Serious enough for us to go out and meet people on the ground and see how London is turning Dutch. We started by talking to representatives from the Royal Borough of Kingston upon Thames, one of the authorities rolling out the Mini-Holland concept. Next, we met notorious cyclist and chair of New London Architecture Peter Murray, who expressed the benefits of integrating cycling into urban planning practice and the importance of behavioural aspects that influence safety. Finally, we talked to Sustrans, a sustainable transport charity that is putting planning into practice by designing and constructing routes and 'quietways'.
The targets for London, as envisaged by Boris Johnson in The Mayor's Vision for Cycling in London; An Olympic Legacy for all Londoners (2013), are very impressive. The London metropolitan area is over 12 million people, two-thirds of the size of the total Dutch population, and growing. Consequently, the need for transport is growing with it. One of the solutions to tackle this growing demand is to double the number of cyclists in 10 years. By 2026, this will equate to 5% of all travel taking place on two wheels. From our experience in the Netherlands, we know that if this target is met, it will have a positive impact on mobility and will help turn London into a more liveable city. But how do you get more Londoners on to a bicycle?
For a minute, let's try to understand why the Dutch cycle so much. The Netherlands is after all a cycling nation where almost everyone owns at least one bike. We cycle a lot – albeit maybe for obvious reasons: a flat landscape, short distances, excellent facilities and networks. But it's not always been like this. Sometime during the '70s we started to realise that within our very compact and densely populated cities, the growing use of the car was causing problems. Not only was traffic – and the huge amount of space required for parking – dominating our streets, but it was also beginning to dominate our planning policies.
The kickback started in the neighbourhood of Nieuwmarkt in Amsterdam, where a movement launched by citizens sought to 'claim the streets back for pedestrians and cyclists' and turn the area into a more liveable place. A few decades later, and with a stiff and sometimes overbearing presence from the anti-car lobby, there is now a balance between different modes of transport, including the use of bicycles. This is illustrated by the latest data on the modal split in transportation in the Netherlands: 27 per cent of all journeys and up to 34 per cent of short journeys (max. 7.5km) are done by bicycle.
Over time we started to understand the need for this variety in transport modes. With the correct balance, they keep our cities liveable, accessible and clean, and attractive places for business and living. All this has shaped our attitude to cyclists in the streets (car drivers are by and large cyclists as well), our planning practice and, importantly, the formal position of a cyclist's safety within the public domain. Our cycle infrastructure is widely considered exemplary, but it's worth noting that this is the result of a half-century of investment – there are rarely any quick fixes. Cycling has become an integrated part of our urban planning policies and practice. The overall benefits of cycling have been recognised not only by the government, but also by the general public. It is a great way of moving around in the city and positive for business as well, both in terms of accessibility in and around town and for the 'bicycle industry'.
But back to London, where cycling is now widely considered to be an integral mechanism to cope with future growth. In a city this big, and with a population and subsequent travel demand both growing, the restrictions in car usage introduced by the previous mayor were clearly not enough. Despite a very well developed public transport network, the city centre is still jammed with cars, causing both stress and pollution.
The most obvious difference with the Dutch situation and perhaps a pointer as to why car travel is still so prevalent is London's size – not just in terms of population, but scale. As a result of this, we would expect that the majority of distances being covered are much longer than in the Netherlands, preventing people from exploring other modes of transport. However, we were surprised to learn that almost two-thirds of car journeys in London are fewer than five miles. The fact that only 1 per cent of these are by bicycle demonstrates the huge potential of 'going Dutch'.
In supporting London cycling we noticed three major issues that are barely addressed: safety in a wider perspective; the facilities required for cycle parking; and the lack of integration of urban planning and mobility. It is these issues that London will need to conquer to become a city for the cyclist.
First, the strategy of going Dutch seems strongly focussed on creating a safe infrastructure by separating cyclists from cars through segregated cycle paths. However, what we have learned in the Netherlands is that safety is by and large a result of behaviour, not infrastructure. Dutch car drivers are also cyclists so they know how to anticipate a cyclist's behaviour. So when London succeeds in boosting its bicycle infrastructure, it should also speed up a change in behaviour as well. We're not talking about cycling lessons here. Rather, we suggest focussing on the other end. Make drivers experience cycling as part of their test to make them more aware of cyclists, and intensify the current training on anticipation for lorry-drivers.
But, most importantly, work needs to be done to encourage a behavioural shift amongst cyclists themselves to become more aware of other people on and around the road. Speeding men in Lycra still represent the majority and encouraging them through the roll out of cycle super highways only exasperates the challenge to transform cycling from a sport to transport. This shift in behavioural attitudes is so important that we believe it should be funded on par with infrastructure.
Another aspect of safety is the legal position of the cyclist within road traffic law. All of our interviews indicated that cyclists are treated like outlaws. But traffic law should protect the most vulnerable, starting with pedestrians and then encompassing cyclists. In the Netherlands, blame is first of all directed at the driver when there is an accident involving a cyclist or pedestrian; the reasoning is that they should have better anticipated. In the UK, this seems to be the opposite as cyclists seem to be the ones on the receiving end of first-blame. This is not a pleasant position for cyclists as this clears the path for irresponsible driving and tends to make drivers unaccountable.
The second issue we feel is lacking in the Mayor's Vision strategy is the focus on creating sufficient bicycle parking facilities, especially in line with the city's ambition of doubling the number of cyclists. Since all the cycling paths will lead to the centre of London, a huge task awaits. In all the plans we have seen, no serious answers are given to this issue. There seems to be a tendency to address this point only after the problem arises. But a lot can be learnt from the Dutch situation, where 'oceans of bikes' around major railway stations have finally been neatly ordered. In Delft station, for example, a two-tier indoor storage system neatly stores up to 5,000 bikes. London should act now to integrate cycle parking into its urban planning policies and plans. That way, not only will poor safety no longer be an excuse to not travel by bike, but nor will inadequate parking.
The third issue we would like to see addressed is the integration of mobility within the strategy of urban planning. There should be no urban plan approved without all modes of mobility being taking into account, including cycling, and vice versa. Here, the boroughs that aspire to become Mini Hollands have a big advantage because they are administered by one organisation, which should make the integration of such policies easier. Since the boroughs are relatively compact areas, they are in the best position to make cycling the main mode of local transport, with all the benefits that cycling has to offer, like easy access to shops, schools and work. Whatever you want to do in your own neighbourhood you should be able to do it on a bicycle.
So, it's great that London is going Dutch, but beware of Dutch courage as well!
Henk Bouwman is director Urban-imPulse.eu and a director of The Academy of Urbanism and Anita Dirix is an expert on integrating bicycle parking