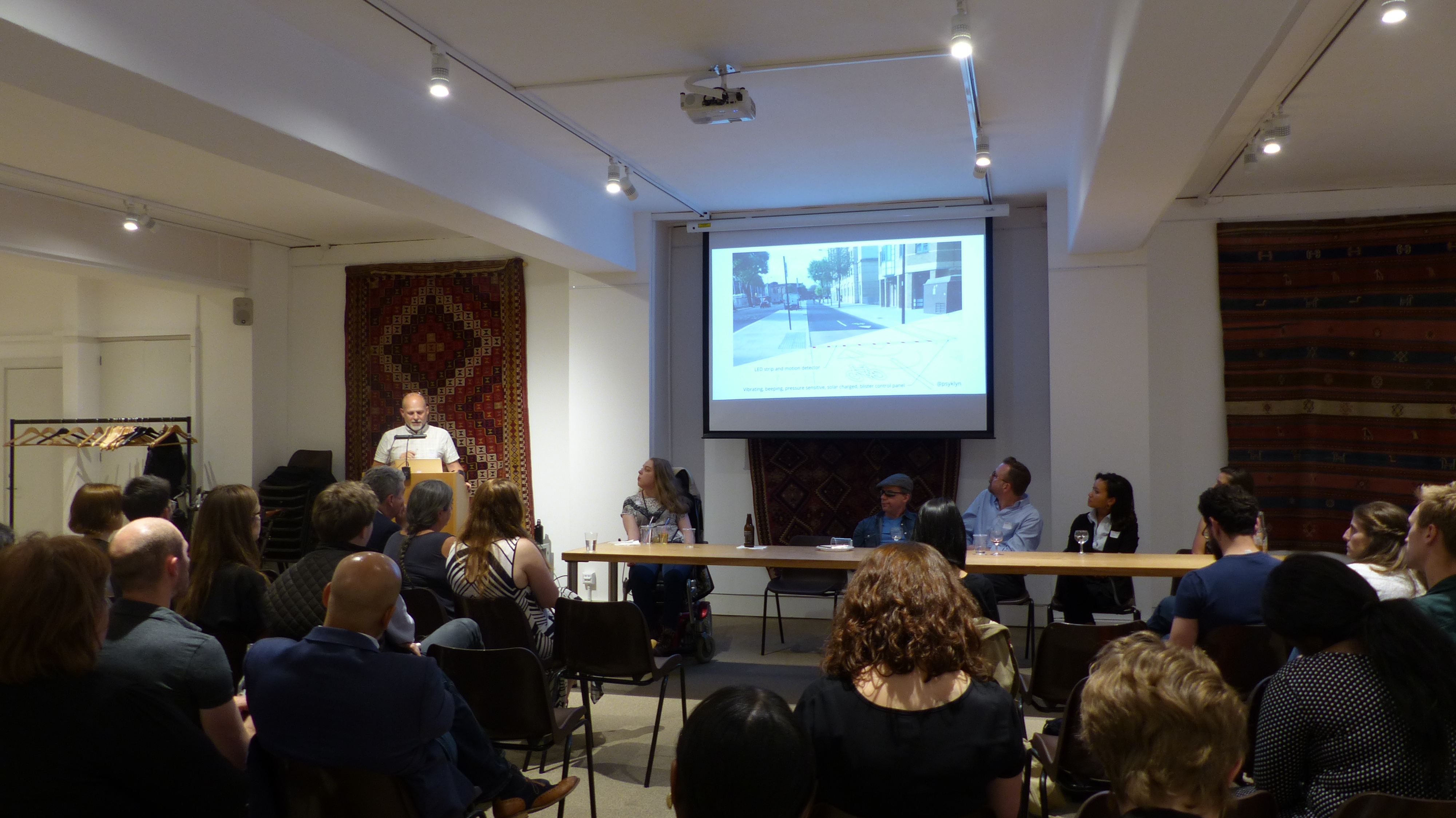 The Young Urbanists AoU organised an event in the context of the London Festival of Architecture 2018, whose theme was 'identity'.
One of London's biggest assets is undoubtedly its diversity, and it promotes itself as an inclusive place: 'London is Open'. The concept of urban identity may be an intangible one, but the built environment can be seen as an expression of that identity and the values derived from it.
Is London really as 'open' as it claims to be? Can London really embrace its diverse character when it does not embrace an inclusive array of citizens?
This event looked at the physical barriers in our built environment, from an accessibility angle, as well as the social model of disabilities and the diversity of the design industry itself. Drawing on the notions of inclusive design, we looked at what diversity should tangibly mean for our built environment and those who experience it.
The evening started with particularly poignant news as one of the guest speakers, Raya Al-Jadir a writer, disability campaigner and World Enabled fellow could no longer attend the event as she was unable to find a taxi with the appropriate ramp for her wheelchair. The injustice and immediacy of how inaccessible our capital is was brought to home with force. Raya's prose was read out and she stressed that people firstly see the wheelchair and the needs of it before the person.  The inability for her to find an appropriate taxi in time, as many do not respond to when disabled people hail them, highlights the invisibility and dehumanisation that people with disabilities face.
To probe the question in the title of the event 'Is London Open?' an aspect of the talk included 3 separate walking tours, where each guest speaker led a group of people across a route in Farringdon where the participant can attempt to understand the step-by-step experience disabled people have navigating the city. I had the privilege of going on a walking tour with Lucy Webster, Warwick alumni, BBC journalist, accessibility campaigner and wheelchair user. Through my limited knowledge as an able-bodied person self I had assumed the 'obvious' areas of inaccessibility. It was not until Lucy's explanation and excellent guidance; I started to understand better the multifaceted issue of accessibility in London. Issues if curb drops, steep and rounded pavement where her wheelchair was unable to navigate and not being high enough to see over the tops of cars if other vehicles were coming. The tour pointed out the challenges of the built environment in London and how difficult it is to navigate for those who have disabilities in society. The tour offered an opportunity to develop awareness and understanding of other people's experience of the built environment.
Kevin Hickman from the inclusive cycling charity Wheels for Wellbeing presented cycles as mobility aids. Wheels for wellbeing campaigns, publishes research, offers training, and supports people with disabilities to cycle. Their work deals with the lack of representation of disabled cyclists. As a result of this lack of representation, cycle infrastructure is not thought and designed for disabled cyclists. The consequence of this thinking is embodied by kerbs, narrow cycle lanes or kissing gates.
Andy Shipley raised an important point that the peak in efforts to make London accessible was in 2012 for the London Olympic Games. The London Assembly website states that there is continued effort going in to continuing this legacy by promoting inclusive design throughout London. The reality of the situation is that 6 years on, London remains pretty inaccessible to non-able bodied people. What is needed is a solid, methodological and sustained focus on modifying the existing areas of London to making it accessible as opposed to random spikes of activity during times when the world focuses on the capital e.g London 2012 Olympics. A solid focus, however, requires an economic and political impetus from all structures in society. The continued cuts to social care, social funding and housing make this harder for local governments to support to needs of disabled people. Accessibility to the capital means inclusion and higher visibility in society, all important things for general wellbeing, self-esteem and good mental health.
An encouraging development in urban design and the built environment is the input of the 'Inclusive access strategy' that is being implemented across design projects. As stressed by Neil Smith, head of Inclusive Design at BuroHappold, as well as meeting the minimum requirement of making a place accessible it is important that at the blueprints of projects that accessibility is at the forefront. When accessibility is placed at the forefront of planning projects in the future it will encourage, as London develops and changes, that the built environment will truly reflect all people that access it. Victoria Lee from the Design Council gave a presentation about the work she is leading on national and international projects to produce inclusive environments. Olufunmi Rita Adeoye, access officer at Redbridge council, raised the importance of the vital need of access officers in boroughs and the consulting of local activist and disabled groups. Good planning policy and Building Regulations are also essential to deliver inclusive design and access. Finally, Sarah Lindeman, Access Advisor from the Centre for Accessible Environments (CAE) explained how the organisation integrates inclusive design as part of developments, using collaborative research with people with disabilities.
The everyday experiences of those who bear the brunt of an inaccessible London, their views, grievances and suggestions for the future comprise the most useful and powerful tool to alleviate the inaccessibility of our Capital. A new found focus and understanding of these issues will lead to a future where London is truly open.
Mina Manik