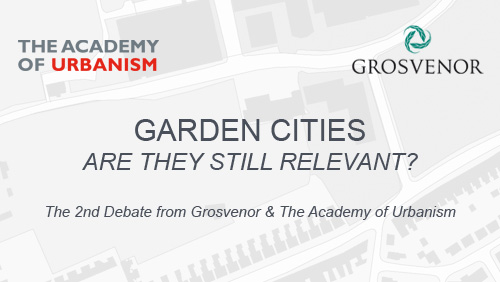 Academy Spring Reception & Debate
Hosted by Grosvenor
18:00-21:00 17 April 2013
Grosvenor
70 Grosvenor Street
London W1K 3JP
Cost: Academicians free /
non-Academicians £20+VAT
SOLD OUT! We are now operating a waiting list for this event. If you would like to register for the waiting list, please contact Bright Pryde (bp@academyofubanism.org.uk)
The Academy is delighted to once again hold its Spring Reception and Debate with Grosvenor. This year, we will commence with a lively exchange on the historic purpose and contemporary relevance of Garden Cities and Suburbs.
Originally an anarcho-syndicalist manifesto for balanced, self-sufficient developments, Garden Cities are now in vogue again politically, despite the earlier abandonment of the UK's postwar New Towns programme.
We will explore whether Ebenezer Howard's 19th century Garden City approach:
Is still the right way forward for urbanism and development in the 21st century
Can deliver the full range of community facilities and services?
Can be successfully procured alongside local authorities?
Will affect the physical and economic well-being of our existing towns, cities and neighbourhoods?
Hear our panel of experts outline their thoughts on Garden Cities, engage in the lively discussion that will follow, and enjoy the opportunity to network with our specially invited guests.
The debate will be chaired by David Lock CBE AoU of David Lock Associates, and our specialist panel comprises:
Debbie Aplin AoU – Managing Director, Crest Nicholson Regeneration
John Best AoU – Director, John Best Re.Generation Limited, & ex-CEO Milton Keynes
Kate Henderson – Chief Executive, TCPA
Saffron Woodcraft AoU – Founding Director, Social Life
Please note spaces are limited. Please RSVP to Bright Pryde (bp@academyofurbanism.org.uk) to reserve your place.