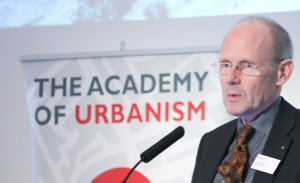 The Academy conferred the title of Honorary Academician on Christer Larsson during the 2013 Urbanism Awards Ceremony. Christer is only the third urbanist to receive this title, after Jan Gehl and Prof Wulf Daseking.
John Worthington, Director of the Academy, introduced Christer to the stage:
Christer Larsson, after a successful early career in academia and as a partner in private practice, has been a significant force in the exemplary regeneration of Malmo, firstly as City Architect and, from 2005, as Director of Malmo City planning office.
Christer studied architecture at the University of Technology in Lund, and then undertook graduate studies at the Royal Academy of Fine Arts, Stockholm, and Renneslear Polytechnic Institute, New York State. He was a partner in private practice in Stockholm and Gothenburg for 14 years, before returning to the Oresund region of South Sweden in 1998, to take a key role in implementing Malmo's radical approach to local area leadership and the government of a modern 'eco city'.
Building on the work of his predecessors, Christer has demonstrated through collaborative working, and a willingness to reflect, learn and improve, how a city that twenty years ago was facing a terminal decline in its employment base, can find a new direction.  The Western Harbour regeneration area, with the Bo01 sustainable housing expo as a symbol, became a top destination for urbanists seeking practical inspiration.
Bo01 was a brave and largely successful experiment in "green living", but was less focussed on the wider social and economic issues. Through a programme of evaluation, Christer has initiated approaches that have been reproducible across the city.  The value-based development model, Q(uality) Books and creative dialogue, are all innovations in building a culture of co-creation, shared leadership, and collaboration between public, private and community partners.
As Director of Planning for Malmo, Christer has been prepared to share ideas by serving on international juries, acting as special advisor to Real Dania and the German DGNB on Green Buildings. He is an active chair of the Nordic City Network and was instrumental in initiating The Academy of Urbanism/INTA European Learning Cities Platform.
For his combination of insightful, leading-edge regeneration practice and his contribution to the furtherance of a 'collaborative urbanism', The Academy of Urbanism is delighted to confer on Christer Larsson the status of Honorary Academician.
For more information about this please contact Stephen Gallagher on +44 (0) 20 7251 8777.