Congratulations to the 'Small Grants Scheme 2019' Recipients!
This year we received great ideas and proposals, ranging in originality and diversity. We are pleased to announce the recipients of the Small Grants Scheme 2019.
Congratulations to our Young Urbanists recipients Simeon Shtebunaev, Floriane Ortega, Charlie McNell and Hannah Yu-Pearson, Clara Dip Wan Cheung and Alejandro Guerrero Neira!
Now, you can get engaged in the projects! 
Brum Youth's City: Are you interested in data collection and young people's perception towards urban design? Can you spare half a day in Birmingham in January or February 2020 interviewing young people? To express your interest, email Simeon at simeon.shtebunaev@gmail.com
Planning Under Emergency: Please take a few minutes to fill in the survey and help Charlie, Floriane and Hannah, to understand the type of actions a local council can take to act on the climate crisis.
Read more about the projects and help you fellow Young Urbanists!
Brum Youth's City
Simeon Shtebunaev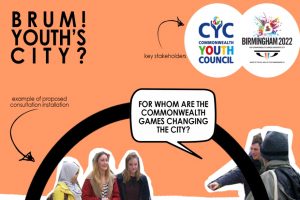 Birmingham undergoing a significant construction boom, however, Beatfreeks' (a youth organisation in Digbeth) 2018 and the just-launched 2019 report 'Brum Youth Trends' indicated that young people are disengaged with the urbanism debate, uninformed about future building developments and lack non-transactional spaces to occupy in the city. One of the central commitments of the 2019 report, which was adopted by major political actors in the city, was to promote young people as co-decision makers in every major built project in the city.
However, there has been almost no systematic progress in involving young people in urban planning, arguably the policy aspect of most relevancy to them. So, why don't we include young people in the planning and design of our cities? And if we did, how?
The project will be a cross-city creative consultation exercise, reaching young people under the age of 29 in Birmingham and soliciting their views about specific ongoing developments in the city, as well as, finding out their priorities about the future of the urban environment in the city. The outcomes of the project will be able to uncover the awareness of youth across the city and inform participants about major developments within their local area. The collected data about design preferences and future needs will be used to advocate for and create a Youth Design Panel, to supplement the Birmingham City Council's Design Panel. The hope is that the project will demonstrate the desire of young people to engage in the planning of their city and shine a light on some of their primary concerns.
Planning Under Emergency
Floriane Ortega, Charlie McNell and Hannah Yu-Pearson
Since Bristol City Council became the first local authority to declare a 'Climate Emergency' in November 2018, the UK has been swamped by a wave of climate emergency motions and declarations, with more than half of all councils across the UK following suit. As a result, 230 of the UK's 408 principal authorities have now declared climate emergencies.
Of these, many have committed to achieving net-zero carbon emissions in their local area by 2030, following Bristol City Council's own target. This 2030 time horizon is 20 years ahead of the government's own 2050 target, illustrating the trend of local authorities taking the lead to limit the devastating impacts of climate change.
The 'Planning Under Emergency' project examines the current planning system in the UK focusing on the level of responsibilities and fiscal power local authorities have, and within this context, how local authorities can meet the ambitions of the Climate Emergency Declarations (CEDs) and the transformational requirements for net-zero carbon emissions by 2030. It touches on themes such as urban planning, policy and regulation, and governance; and explores how these areas are shaped by climate change.
The project aims to improve our understanding of how local planning can help us create towns and cities fit for the Climate Emergency and to uncover insights about the current constraints faced by local councils regarding their climate action, and share a selection of best practice case studies from a range of geographies and types of authority to illustrate what can be done.
Food On Demand: Last Mile Gig Urbanism
Clara Dip Wan Cheung and Alejandro Guerrero Neira
The urban shift of upmarket high-technology food courier services is a real sea change in London: Meals are ordered and sent via food-delivery apps with maximum convenience and transparency, trendiest high-street restaurants set up dozens of dark kitchens in grimy spots of the region. The food delivery trend is expected to increase by 10% a year to £53bn by 2020, according to market analyst NPD. Yet, the ease with which consumers can summon a fully cooked meal to their front door can obscure the role the so-called 'ride-sharing' or 'gig' economy play behind-the-scenes.
The 'gig' economy is a new and relatively unexplored area of work in urbanism. Most of the current local researches on gig economy published by empirical organisations such as the Department for Business, Energy and Industrial Strategy, London School of Economics and University of Oxford focus on quantitative and statistical exploration. For many the characteristics and interactions of the gig economy in public places and the effect of them on our urban environment are little understood.
In light of this, 'Food on Demand: Last-Mile Gig Urbanism' is an open-source research which aims at engaging, documenting, evaluating the life and perspectives of the 'gig' food communities in the city. The visual manifesto will serve as a pilot research that promotes the social awareness of the new 'gig' economy and their interpretation of quality public space, that is distinct from the normative urban experience. It also intends to give voice to these marginalised couriers on their often-neglected intersectionality with urban traffic and facilities, use of public space during their unproportionally perpetuated break times, street harassment or discrimination on the job.