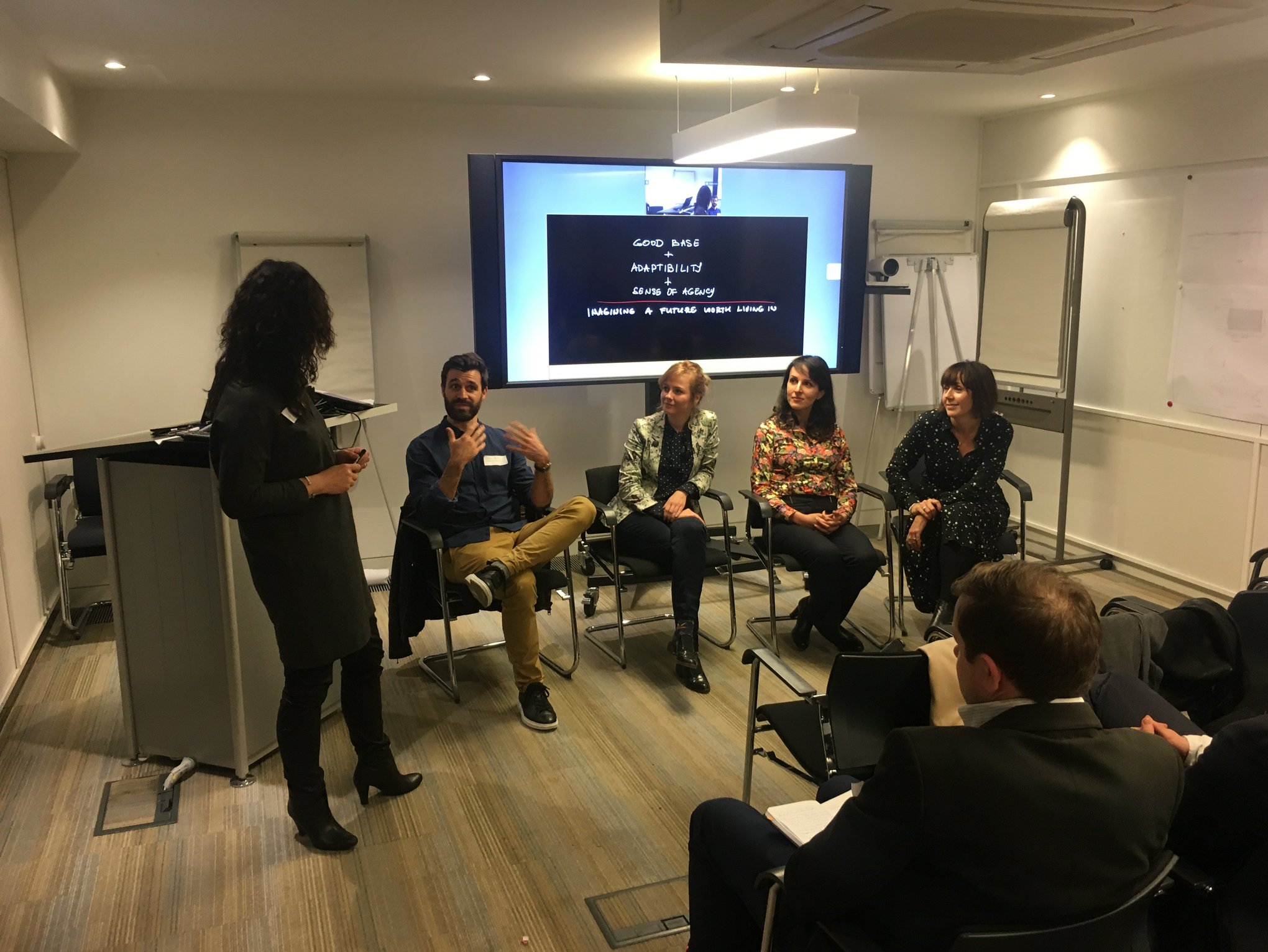 On Tuesday 6th November 2018, the Young Urbanist Network met up at Arup to discuss Urban Lighting and its role in shaping cities.
In the context of the 24 hour city, urban lighting after dark became an inherent part of urbanism. Well-designed night-time lighting can make a significant difference in the way one uses, enjoys, moves around the city's streets. Light and darkness balance needs to be apprehended at a physical, social, cultural and physiological level. For the event the discussion focused on designing inclusive environments for night-time. We invited designers and researchers working within the field to contribute and reflect on different dimensions of the topic.
The evening started with introductory speech by Florence Lam, Global Lighting Design Leader at Arup. She stressed how night-time illumination 'is a serious business' with sizeable contribution to city economy and perception of our urban environments. However, lighting as a place making dimension is often very much overlooked, taken as a given rather than as an active element of cities.
We evening continued with 4 short presentations followed by panel discussion.
Firstly speaker was Dr Navaz Davoudian. Navaz has been a researcher in light and lighting in the past 14 years at Sheffield University and UCL. Her main expertise is urban and street lighting research including pedestrian lighting and street lighting glare. Navaz focused her presentation on how lighting influences senior users of the city. Her research showed that when one's ability to see decreases, a perception of danger and falls increases which leads to reduced mobility. Urban lighting can play a role in reducing this perception of risk.
Second, Dr Joanne Entwistle, a co-founder of Configuring Light/Staging the Social and Senior Lecturer in Sociology at King's College London, presented ways to use sociological methods to understand how urban lighting shapes different uses of space. During her talk, Joanne highlighted the social inequalities embodied in lighting choices: a characterful street in Westminster will feature an atmospheric and sensitive lighting scheme, when the passageways of a 1970s council estate will constantly be lit by a cold, strong and purely functional lighting intended to deter crime. She also presented her recent project at Elephant Park in Elephant and Castle and outlined a variety of projects undertaken by Configuring Light/Staging the Social.
After Joanne, Dr Casper Laing Ebbensgaard, a Leverhulme Early Career Fellow at Queen Mary University of London, presented his research focusing on privately-owned public lighting. His focus was the lighting which is often seen as a clutter, a visual pollution, especially with commercial signs. However, Casper chose to present light as a feature that signals the presence of other people in the city, as an urban experience taking people closer to a sense of 'togetherness'. His previous research has explored how older residents across east London respond to changes in lighting as street lights are replaced with LEDs, investigating how technologically driven redesign impacts on resident mobility, perception and sense of place.
Finally, Inessa Demidova, lighting designer at Arup, added a lighting practitioner's perspective to the discussion. Starting with her personal experience of spaces which gave a feeling of being inclusive Inessa reflected on how these relate to the typical scenario of developing a lighting scheme for a public realm within a typical urban development. She concluded that the key ingredients identified: good quality materials and equipment, adaptability and giving the users sense of agency were all too often compromised along the way. Looking into the details on why we are not designing better places, she opened the discussion to the presenters and the audience.
The panel discussion spanned a variety of topics. A discussion on what is an adequate response to increased amount of homelessness in our cities to public light art installations and updating the regulations. One of the discussion conclusions was that planners need to move away from the volume and metrics to what people can see, in their embedded experience.
"Urban lighting isn't just about meeting safety needs through code compliance, or achieving an aesthetic effect. It presents a significant opportunity to fundamentally improve the quality of life of urban citizens. Properly considered, lighting can positively impact the 'total architecture' of our cities; reinforcing urban design principles, enhancing cultural experiences and encouraging social interaction. "
–Florence Lam