YU Event / Frites and Fiets: Cycling Belgium and the Netherlands
June 16, 2017

-

June 19, 2017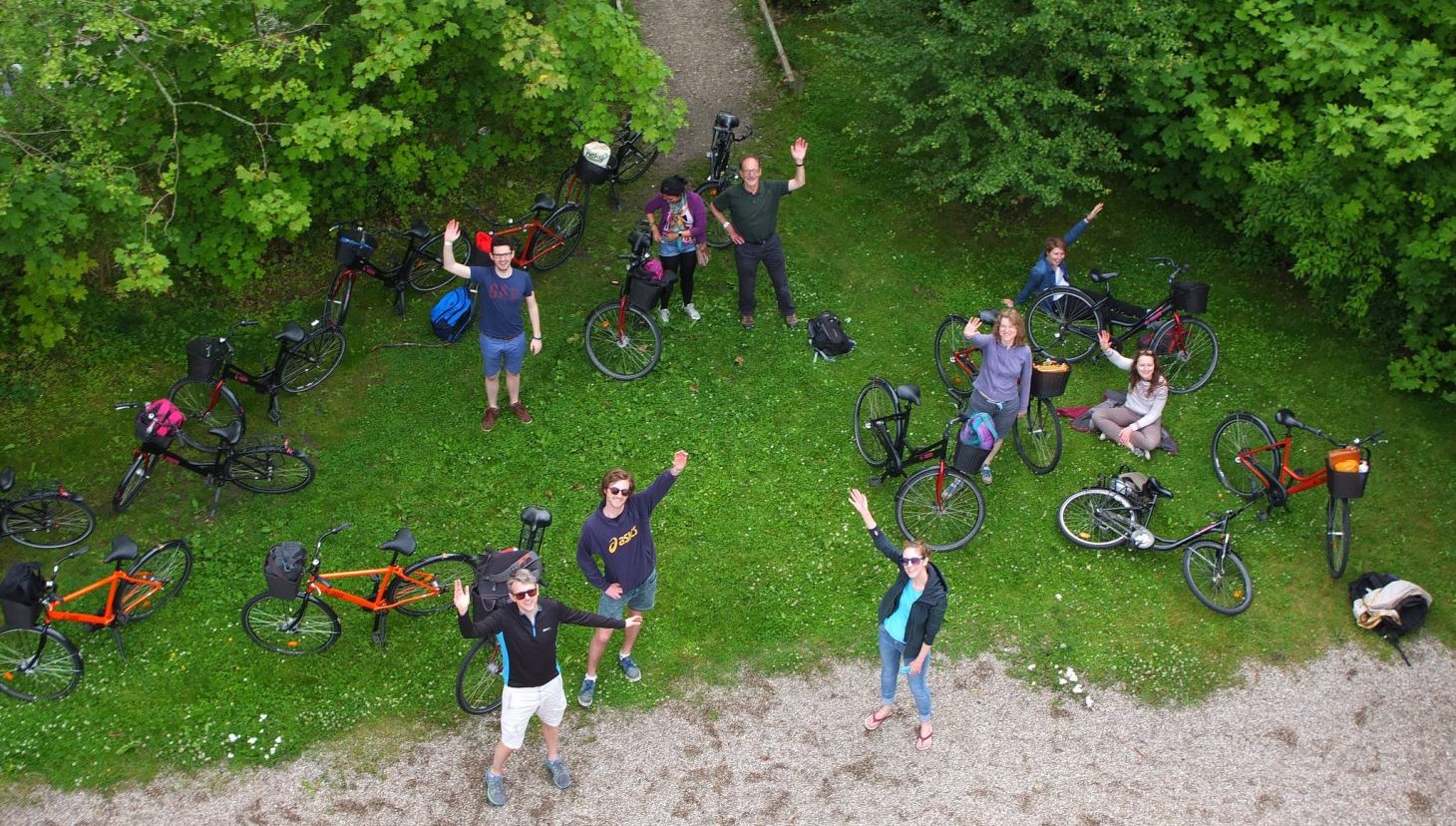 Cycle study tour to Liège, Maastrict and Eindhoven with the AoU Young Urbanists
Are you interested in architecture and urban planning?
Do you fancy a long weekend in Belgium and the Netherlands?
Can you ride a bicycle?
If the answers to the above questions are "yes" then please read on!
The Academy of Urbanism Young Urbanist Network (AoUYU) invites you to join a transport-and-urbanism cycling study tour. Over the weekend of 16-19 June 2017 we will ride from Liège to Eindhoven, via Maastrict.
Due to the increasing popularity of the YU European Cycling Trips, priority and preferential pricing will be given to Young Urbanists. Non-urbanists/significant others are welcome, but places are strictly limited.
Background
This year's tour continues last year's juxtaposition of post-industrial rebirth with historic centres, all linked by world-class cycling infrastructure.
Eindhoven is a Finalist of The Academy of Urbanism's European City of the Year Award in 2017 – you can read the Academy's Assessment report online here to get an idea of its key learning points. Formerly a major manufacturing centre, the 1990s departure of industrial giants DAF and Philips has forced a major-rethink of the city's raison d'etre. The city has re-emerged as a centre for design, R&D and advanced manufacturing, with the world-renowned Design Academy. It also has an impressive repertoire of brutalist architecture and the legendary Hovenring.
Maastricht claims to be the oldest city in the Netherlands and its tally of historic sites is exceeded only by Amsterdam. Unusually, its walls extend to both sides of its river (the Maas or Meuse). Maastrict, by any measure, is exceptionally pretty, with a different type of architectural appeal to that of Eindhoven.
Liège is the third city of Belgium and a former industrial behemoth; iron and steel have underpinned its economy for two centuries. A key node in the Belgian railway network, its new railway station (Guillemins) is one of the most spectacular structures in the world and a worthy case study of public transport's role in urban regeneration and a must-see for all fans of Santiago Calatrava.
This study tour will be an opportunity to experience first-hand the relationship between history and quality of life that comes from a bicycle-centric city. We will also experience numerous examples of world-leading urban planning and architecture.
The plan is to travel from the UK to Liège, then cycle up the area's many waterways to Maastricht before we swing north to Eindhoven. All stops will include city tours, exploration further afield and a healthy balance between guided tours and free time. Tour guidance will be provided by local contacts in each city.
Last year we went to Scandinavia and the previous year to the Netherlands. You can read a write-up of the 2015 Dutch trip (Windmills and Wheels) here, as well as the 2016 Scandinavia trip (Pastries and Pedals) here, and see photos from both trips on the Academy's Flickr page here.
Velo-City 2017
The reason we have chosen the specified date is because the Velo-City conference is taking place from 13-16 June in Arnhem, Netherlands. This is a huge cycling conference that is in a different place around the world each year, and just happens to be located in perfect proximity (both in location and timing) to our trip.
We would like to offer you the opportunity to attend this conference as an optional add-on to the beginning of the cycling trip. And we have negotiated some free places with the conference in exchange for a little bit of voluntary support (ie. helping with registration or tours), but this will still allow you to take part in the conference.
If you would like to participate in this optional add-on, you would be responsible for your travel and accommodation costs to get to Arnhem, attend the conference, and get yourself to Liege on the evening of Thursday 15 June to be ready with the group for an early start on Friday morning (16 June). Please note that the Velo-City optional add-on is to be completely arranged by each individual and is not officially part of the YU Cycling Trip. That being said, it is a fantastic opportunity to attend a world-class conference on cycling that normally costs €950!!!
Proposed schedule
This schedule is designed to minimise the amount of annual leave required. A four-day cycling holiday/study tour can take place with only two days of holiday. It also allows considerable flexibility between travelling and sightseeing, depending on people's interests. 
13-15 June: Optional pre-trip add-on, Velo-City 2017
Thursday 15 June: Travel
Travel by train (or other mode) to Liège in the evening. Check into city-centre accommodation.
Friday 16 June: Liège and Maastrict
Join The Academy of Urbanism's partners in a tour of this historic city. Learn about Liège and admire Calatrava's masterpiece. Cycle to Maastrict in the late afternoon for an evening tour and dinner.
Saturday 17 June: Maastrict to Eindhoven
Following breakfast and a morning tour, we will turn our bikes north and cycle to Eindhoven. We will break the journey with stops for lunch, beer and ice cream, as required.
Sunday 18 June: Eindhoven
We will have a morning tour confirmed already from PhD student George Liu, that will take us from the train station, through the iconic Silly Walk tunnel, through the Roundabout Graffiti tunnel, along New Bicycle Street, check out the Woensel XL shopping centre, and finally along Kruisstraat to the hipster area of Eindhoven (Strijp-S).
The afternoon will be free for participants to explore Eindhoven themselves. Potential activities may include:
Explore urban and suburban Eindhoven to your heart's content, via wonderful Dutch cycleways
Take in the bold brutalism and modernism of Eindhoven, with buildings like the
See what is further afield. s-Hertogenbosch is a short train trip away.
Informal meetings/trips
Monday 19 June: Eindhoven and back to the start
Final tours of Eindhoven will precede our return to Liège by rail (we have to return our bicycles) and onward travel to Britain.
Travel
How should I get to Liège?
We have negotiated a discounted group rate for the Eurostar from London (approximately £80.50 – subject to change based on when we actually book), but those who would like to take advantage of this discount will be required to travel on the following trains:
London St Pancras – Any Belgian Station – 15/06/2017 @ 18:04 arr 21:05, connecting in Brussels to Liège via Belgian Rail @ 21:56 arr 23:01
Any Belgian Station – London St Pancras – 20/06/2017 @ 07:56 arr 08:57
Please note that this will require you to stay in Brussels on the night of Monday 19 June, returning on the first Eurostar back to London Tuesday morning (arriving in time for a slightly late start to work). However, this is the preferred option for us in terms of programming, and we would recommend that all participants select this option.
We will travel from Eindhoven to Liège on the 16:31 train on Monday 19 June, changing in Maastricht and arriving in Liège at 18:20 in time to return the bikes by 19:00. The group will then travel from Liège to Brussels where we will spend the night before taking the first Eurostar back to London on Tuesday morning.
You can indicate on the booking form whether you would like to be included in this group rate, or book your own travel to/from Liege. Please note that if you choose not to take advantage of the above Eurostar rate, you must arrive in Liege on the evening of Thursday 15 June ready for action on Friday morning. Furthermore, you will still be responsible for returning your bicycle to the hire shop in Liege before 7pm on Monday 19 June and could miss out on talks/tours in Eindhoven if you have to leave earlier.
How about cycling to Liege?
This is entirely possible, if you have the spare time to do it. One option could be to travel to Northern France by rail/ferry and cycle from there. The choice is yours!
Accommodation
We will stay in high quality hostels ('poshtels') or hotels, depending on availability. Costs are around £35-£45 per night. Bookings have been made on the basis of price, location and Tripadvisor rating. The cost of accommodation is included in your trip fees.
Trip Outputs and Participant Contributions
As the Cycling Trip is a major component of the YU calendar of events, and our only activity in Continental Europe, we are keen to ensure that we spread the word on our learnings and how amazing this trip is. As such, this year we will expect participants to contribute in a tangible way to some sort of digital magazine/report when we return. This could include an article, a reflection, sketches, photos, videos, or anything else you can think of.
Filming and photography
Because this is a major staple in the Young Urbanist calendar, and our only event in Continental Europe, we would like to produce a video of this event to share with the Network. We need a film-maker who is able to encapsulate the tour succinctly. We will be aiming to document the trip thoroughly. If you're a would-be Sofia Coppolla, please get in touch.
Total cost
We estimate approximately £350 for travel and accommodation (subject to change based on final booking costs). Food and drink are in addition and provided at your own expense. Total trip cost approximately £400-500 per person, all in. Please note, a £100 deposit will be required to secure your place (payable via PayPal or Credit/Debit card), with the balance due in instalments at the beginning of May and June (if needed). This should allow you to spread the cost of the trip over a series of payments.
Sounds great! How do I sign up?
You can fill out the Frites and Fiets booking request form below – submission of this form is due by Tuesday 18 April 2017. Please note that completing this booking form DOES NOT guarantee your place on the trip. After the booking form deadline, and in the case that we have received more booking requests than there are spaces available, priority will be given to YU members first, and any remaining spaces will be allocated as fairly as possible. We will invite people to pay the £100 deposit through a PayPal link to reserve their place. Please note that your space will not be confirmed unless we receive your £100 deposit.
Any questions?
Please contact Bright Pryde-Saha at bp@academyofurbanism.org.uk / 07748 444 652 or George Weeks at george.weeks@cantab.net / +6422 6898464  
FAQ's
A list of the most likely questions is below. 
How far will we by cycling per day?
The longest distance will be Maastrict to Eindhoven. This is 80km, mainly along canals and other flat topographical features (and slightly downhill!).
Is this some kind of competitive event?
No! It is a study tour. We are more interested in getting to see things than in getting there at the maximum rate.
Should I bring my own bicycle?
For this trip, we will be arranging bike hire in Liège (where we will start and end the trip), and the cost of the hire will be included in the total cost of the tour. If you really want to bring your own bicycle, please get it serviced before travelling to Belgium, and inform Bright if this will be the case.
What kind of bag should I bring?
We recommend you bring along a pannier bag so you can cycle comfortably without anything on your back. The bikes we will be renting have pannier racks installed on them. They also come with bungee cords, so if you can only muster up a backpack, you can tie it down to the rack with the cords.
I have a really great idea for something that we should see/do in Liège/Maastrict/Eindhoven/nearby!
Please share it with George and Bright. We want everyone to get as much out of the tour as possible. If you have background knowledge that you think would be useful, please e-mail us and we can see about adding it to the itinerary.
What about insurance?
Please ensure that you have purchased adequate travel insurance. The Academy of Urbanism does not take responsibility for any injuries or accidents that occur on the trip, so only you will be responsible for your health and safety.
Is this event for charity?
It is not a charity event.
What should I bring?
The following list should suffice:
Clothes that are comfortable for cycling (bring sufficient clothes for four days)
Bike panniers
Bungee cords
Sunglasses
Camera
Notebook
Euros
Passport
Raincoat
Water bottle
Small rucksack for day-trips
Swimming trunks
Basic first-aid kit
Any medications that you require