Young Urbanists: Zoning Learning from Abroad -USA
December 17
@
18:30
–
20:00
GMT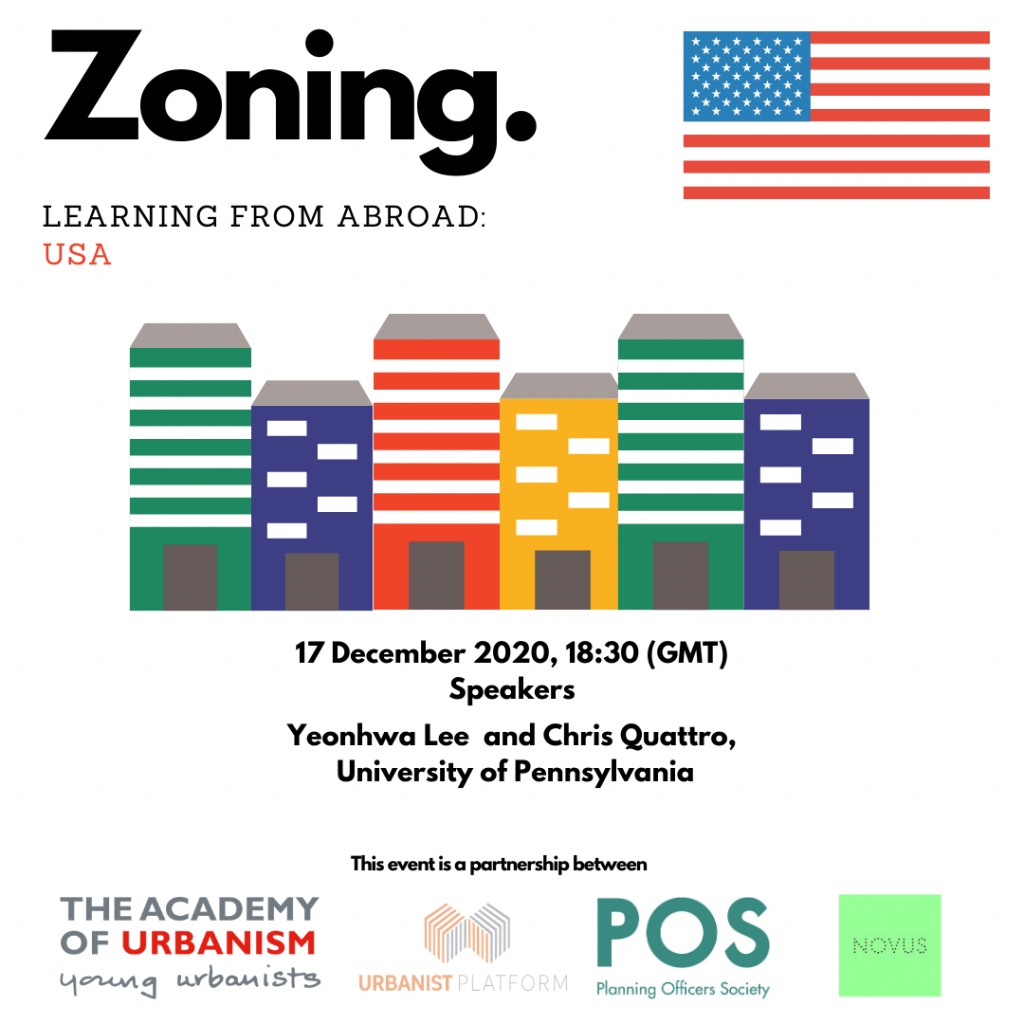 Zoning Learning from Abroad – USA
Zonal planning systems have become a recurring theme in discussions about radical planning reform in England. But not all zoning systems are the same. This series takes a deep dive into different zoning systems across the world. The format for each event will be the same – one guest talking about the country they work in and its zonal planning system. It will be followed with a focused discussion around those key questions (and other questions the audience may have). These discussions will be written up to blog posts – setting how elements of the zoning system from that county could be translated into the English system.
Speakers:
Yeonhwa Lee
Yeonhwa is currently a PhD student and Doctoral Fellow in the City and Regional Planning department at the University of Pennsylvania's School of Design. Her doctoral research explores the occurrence of equitable socio-spatial patterns at the neighborhood level and seeks to understand the political, economic, and social factors that underpin them. Her research portfolio includes projects on the global housing affordability crisis and the relationship between gentrification and resident neighborhood satisfaction. Prior to beginning her PhD in the US, Yeonhwa was the Director of Operations at an urban data analytics startup called Urban Intelligence in London, UK, and oversaw product development, data management, and research. Yeonhwa holds a MSc in International Planning from the Bartlett School of Planning, University College London, and a BA in Philosophy, Politics and Economics (PPE) from the University of Pennsylvania.
Chris(sy) Quattro
Chris is a PhD student and a Fontaine Fellow in the City and Regional Planning department at the University of Pennsylvania's School of Design. Her research focuses on zoning law and development regulation in the US, with special attention paid to how such codes have impacted different classifications of race, class, gender, and ethnicity throughout history. Prior to her engagement with the PhD program, Chrissy was the Director of City Planning and Development for the City Council of San Antonio (Texas), District 1. As Director, she oversaw development and planning needs for the Downtown San Antonio area, including zoning, infrastructure, comprehensive planning, and capital projects. Her major achievements include the supervision of the amendment process for the Infill Development Zoning Code (IDZ), as well as the drafting of the Short-Term Rental Code (STR). She holds master's and undergraduate degrees, both from institutions in the State University of New York system, in Education, Business Management, and the Earth Sciences.
The session will be chaired by Vicky Payne, Senior Consultant – Planning and Urban Design, URBED. Vicky is a planner and urban designer working at URBED in Manchester. She is interested in how core principles of urbanism can be supported through strategic spatial planning and design coding. She is motivated by the potential to bake in sustainability at a macro scale through well-considered plans, and the opportunities this affords at site level. She has worked on a wide range of projects including the Greater Manchester Spatial Framework and a National Model Design Code for the UK. Vicky believes that everyone should be able to participate in planning and wants to explore how the industry and technology can make this easier. She is a proud member of the RTPI and a passionate advocate for high quality planning in the UK.
If you have any queries before then, please contact Olga Gaitani on og@academyofurbanism.org.uk.
Book