Visit / Windmills and Wheels: Cycling in the Netherlands with the AoU
May 28, 2015 @ 08:00

-

June 2, 2015 @ 09:00

BST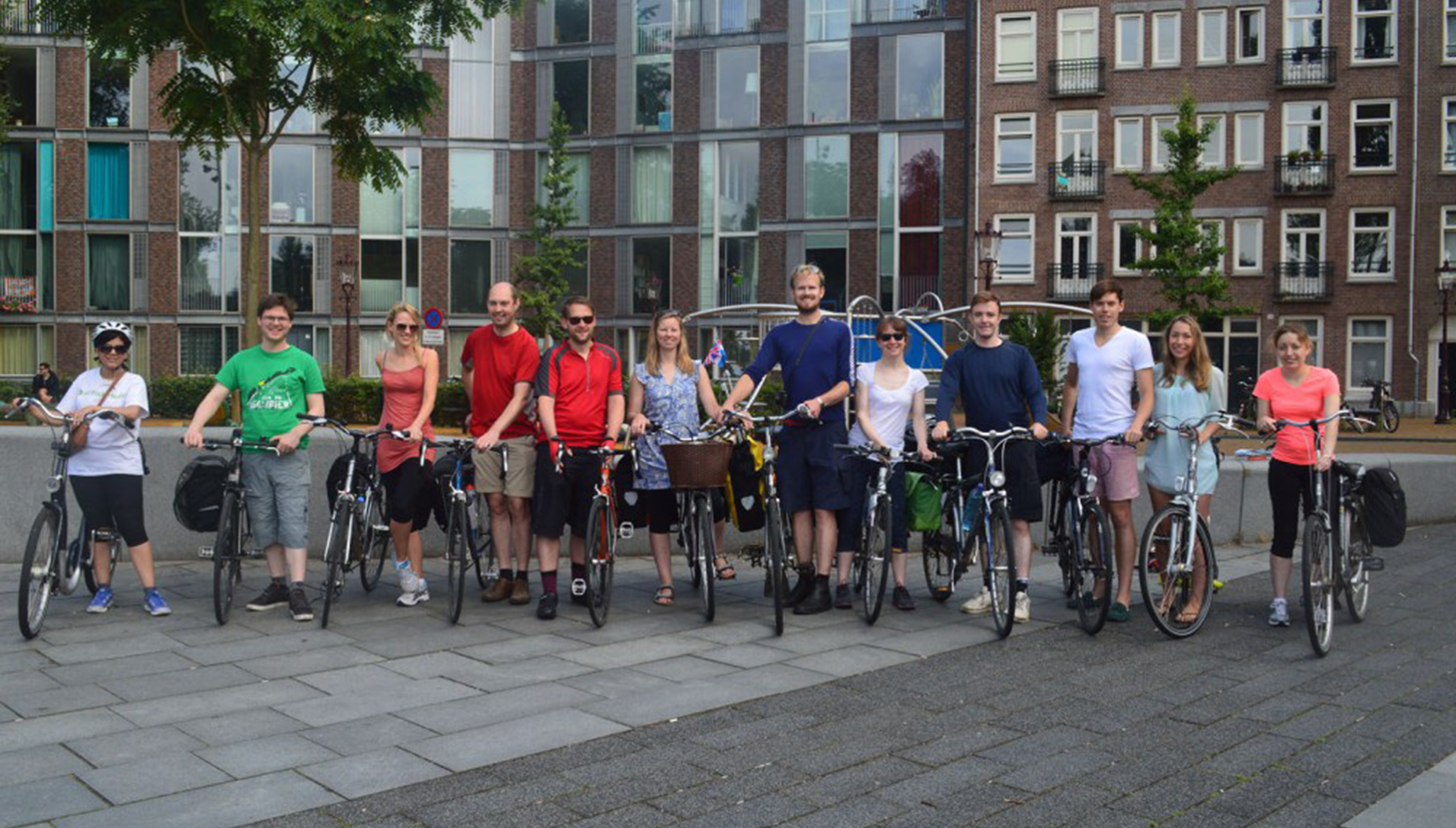 Are you interested in architecture and urban planning?
Would you like to spend a long weekend in the Netherlands?
Can you ride a bicycle?
If the answers to the above questions are "yes" then please read on!
The Academy of Urbanism Young Urbanist Network invites you to join a transport-and-urbanism cycling study tour to the Netherlands. Places are open to all but priority will be given to Academicians and Young Urbanists – non-urbanists/significant others are welcome. Places are limited, so book early to avoid disappointment.
Background
Cycling is an increasingly prominent feature of UK transport and planning policy and the bicycle is widely recognised as an inherently urban tool for creating liveable cities. In light of this, The Academy of Urbanism Young Urbanist Network is organising a cycle ride to the Netherlands over the weekend of 30-31 May 2015.
This will be an opportunity to experience, first-hand, the quality of life that comes from bicycle-centric transport. It will also allow us to see some of the excellent recent examples of architecture and urbanism in the Netherlands, such as IJburg.
The plan is to travel by ferry from the UK to the Hook of Holland. From here, we will cycle to Utrecht, a city where 33% of all journeys are made by bicycle. In Utrecht, we will receive a cycling tour of the city courtesy of Herbert Tiemens before cycling up to Amsterdam. After a day of relaxing and sightseeing in Amsterdam, we will cycle back to the Hook of Holland for our return ferry.
You can read a write-up of last year's trip from Young Urbanist George Weeks here.
Proposed schedule
Thursday 28 May: Travel to Harwich by rail. 23:00 crossing from Harwich to Hook of Holland (arrival 08:00)
Friday 29 May: Cycle to Utrecht, via Gouda (85km). Experience the quality of Dutch intercity cycle routes, see the countryside, have lunch in the historic city of Gouda.
Saturday 30 May: (morning): Tour of Utrecht by Herbert Tiemens. Cycle to Amsterdam after lunch (43km)
Sunday 31 May: Day off in Amsterdam. Take a tour of Amsterdam's historic architecture and its ultra-cool contemporary buildings. Sip Heineken in a medieval square, take a trip on the canals or simply relax. Potential informal meetings/trips planned for morning.
Monday 1 June: Cycle back to Hook of Holland and catch 22:00 ferry to Harwich (arrival 06:30)
Tuesday 2 June: Arrive in London around 08:30 – just in time for work!
This schedule is designed to minimise the amount of annual leave required – a four-day cycling holiday/study tour can take place with only two days of holiday. It also allows a healthy balance between travelling and sightseeing.
Accommodation
We will stay in high quality hostels ('poshtels') or hotels, depending on availability. Costs should be in the price range of £30 – £35 per night. Bookings will be made on the basis of price, location and Tripadvisor rating.
Filming and photography
We will be aiming to document the trip thoroughly. If you have experience in filmmaking or fancy your hand at being Steven Spielberg, please get in touch.
Total cost
We estimate approximately £250 for travel and accommodation. Food, drink and bike repairs are in addition and provided at your own expense. Total trip cost approximately £400 per person, all in.
Sounds great! How do I sign up?
To express interest in cycling in the Netherlands in May/June, please get in contact with Bright Pryde-Saha at bp@academyofurbanism.org.uk as soon as possible. Spaces are limited, so book early to avoid disappointment!
Please sign up by Friday 27 March 2015 – applications later than this may be too late because we need to book the ferry tickets ASAP.
Please note, a £100 deposit will be required to secure your place (payable via PayPal or Credit/Debit card), with the balance due by the end of April.
To conclude: if you fancy the idea of the wind in your hair as you speed across the polders on a hot summer's weekend, go ahead and sign up!!
Any questions?
Please contact Bright Pryde-Saha at bp@academyofurbanism.org.uk / 07748 444 652 or George Weeks at george.weeks@cantab.net / 07870 454655  
To secure your place on the trip please proceed to pay the deposit: