Online NPF4 Workshop
April 8, 2020

-

April 9, 2020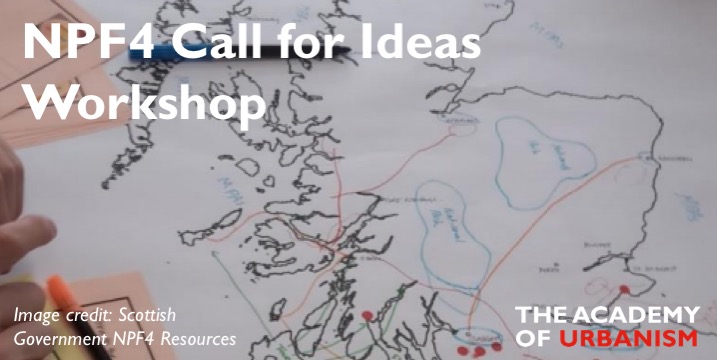 Come and join fellow members of The Academy of Urbanism online for a workshop responding to Scottish Government's NPF4 Call for Ideas
NPF4 online workshop Part 1, Wednesday 8th April, 16:00 – 17:00
NPF4 online workshop Part 2, Thursday 9th April, 16:00 – 17:00

This event consists of two workshops, Part 1 and Part 2, which make up the full workshop session. There is an option to select which parts you can attend in the ticket booking form. If you are unable to make both workshops, they will work independently.
What ideas would urbanists provide in response to the Scottish Government's National Planning Framework 4 call?
Come and join fellow AoU members for a focussed online workshop to explore our collective response.
Following the workshop we will formulate an AoU submission, drawing upon members' input and comments. This will then be submitted to the consultation portal, which closes at the end of April.
The workshop will follow the format devised by the Scottish Government (adapted for use online and spread over two sessions) and use their resource bank found at https://www.transformingplanning.scot/national-planning-framework/resources/
Workshop sessions are as follows:
NPF4 online workshop Part 1, Wednesday 8th April, 16:00 – 17:00
NPF4 online workshop Part 2, Thursday 9th April, 16:00 – 17:00
Tea, coffee and biscuits are encouraged, as are pets and comfortable surrounds.
We will use Zoom for the workshop sessions, more information about this program can be found at https://zoom.us/. Your booking confirmation will contain a meeting link for the two dates, and we will also send out an email before the event to check that you have all the information you need.
If members have any ideas for future events, or thoughts on the AoU in Scotland, you are welcome to get in touch at aou_scotland@academyofurbanism.org.uk, or drop in to our online coffee breaks.