Limerick: Resilience, Revival and Regeneration
March 6
@
09:00
–
17:30
GMT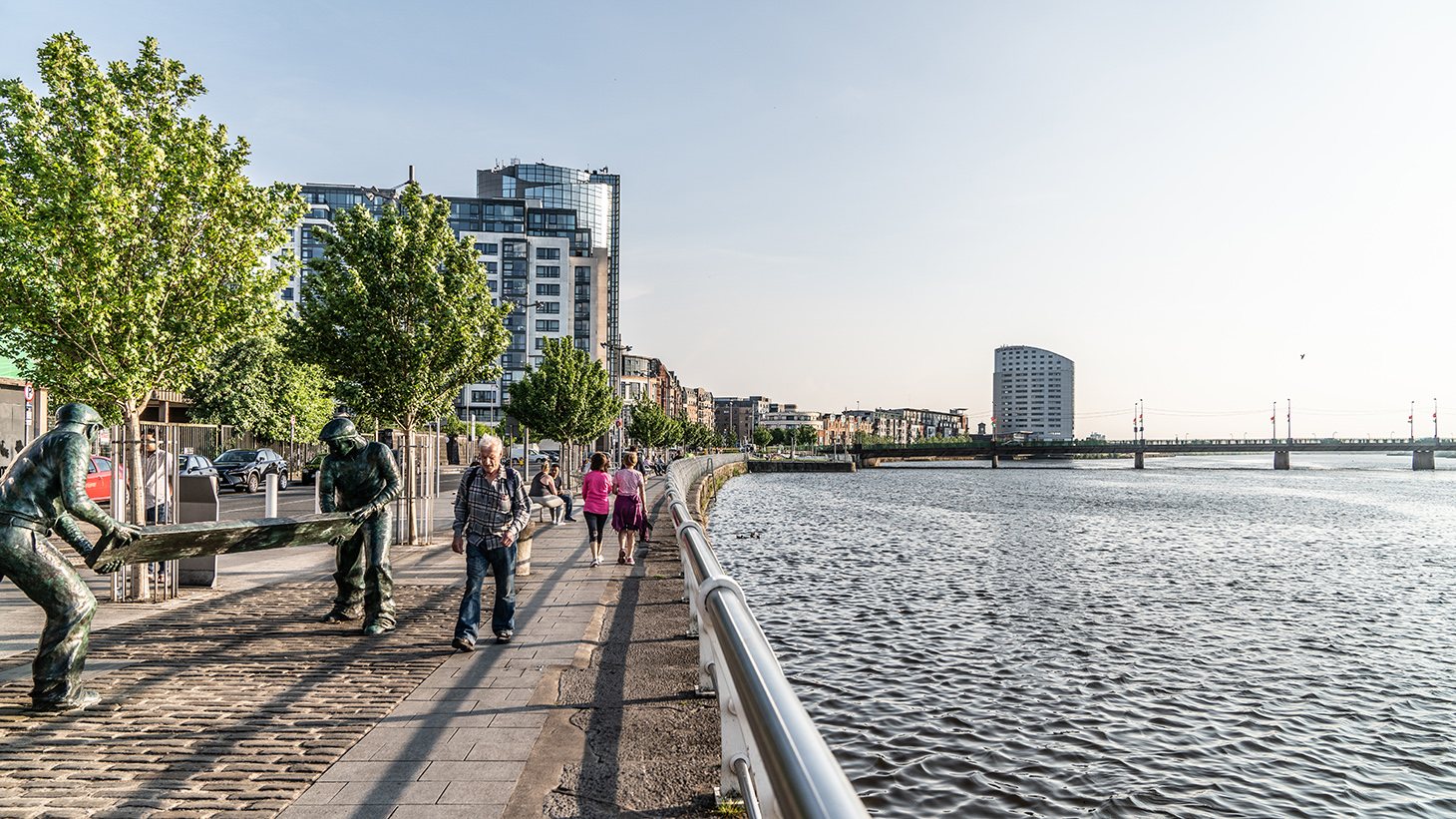 Book Now
The transformation of mid-level European cities is providing space for new ideas, enterprise, investment and even building types. But how can cities maintain their identity whilst sustaining growth that is becoming increasingly central to the success of our national economies? Where better to explore this than in Limerick, one of the five cities forming part of the Irish government's Ireland 2040 national planning policy initiative. Limerick has been an exemplar in implementing new city governance structures to advance regional growth as a counterbalance to the continuing growth of the Dublin Region. The Academy together with the RIAI have put together a one-day conference which will explore topics such as the changing role of the public sector, how second-tier and mid-sized cities are using their assets, combined with events and milestones, to improve their offer and raise their profile. We will also seek to find out more about the role of digital urbanism in planning and servicing towns and cities. We will hear about and discuss the applicability of the various regulatory and policy mechanisms, new financial and partnership models used around the world to secure delivery of affordable housing as a key component of great placemaking. The event will provide a leading forum for those concerned with the creation and development of a healthier planet, lively cities and towns, and happy citizens. It will consider contemporary thinking and innovative approaches to the design, operation and management of cities and towns. On Thursday afternoon, 5th February, in advance of the conference there will be an optional city bus tour, provided by Limerick City and County Council.
Who will be attending?
This event is devised for a broad audience of built environment decision-makers, including planners, architects and urban designers, landscape architects, traffic engineers, regeneration, health, housing, town centre managers, consultants, retailers, public art and cultural practitioners.
A special offer to join the Academy
As a special introductory deal, buy a ticket to this event and pay only €35 for 12-months
individual Membership
of the Academy – normally £50. Just select the 'Ticket + 12-months AoU Individual Membership'.
Tickets
€90 – single ticket €125 – single ticket + 12-months AoU Individual Membership
Optional bus tour – Thursday 5 March 2020, 4-5pm
For those arriving early we are including an optional bus tour of Limerick. On booking your ticket, please indicate if you would like to take part in this. This hour-long bus tour will take in highlights including: King's Island, Georgian city core, Milk Market, Watergate Flats, Pery Square, Hyde Road revitalisation, Lord Edward Street, Southill regeneration area.
Book Now via Eventbrite
Programme
09:00
Registration
09:30
Welcome and Introduction Councillor Michael Sheahan, Mayor of Limerick City and County Council Tony Reddy AoU, Chair, The Academy of Urbanism
09:40
Session 1: Compact Growth
Chair: Sarah Newell, Limerick City & County Council
Towards a Vibrant Historic Centre: The role of citizens in shaping a liveable neighbourhood, Newtown Pery, Limerick Ailish Drake, Partner, Drake Hourigan Architects
RIAI Tool Kit Philip Jackson AoU, Associate, Scott Tallon Walker
Places for People – National Policy on Architecture Nicki Matthews, Department of Culture, Heritage and the Gaeltacht
European Expo 2020 in Limerick Caragh O'Shea, Head of European Expo 2020
Panel Discussion
11:15
Break
11:35
Session 2: Digital Citizenship
Chair: Philip Jackson AoU, Associate, Scott Tallon Walker
Working with Data for Sustainable Urban Outcomes Tim Stonor AoU, Managing Director, Space Syntax
Citizen Innovation in +Limerick Rosie Webb, Senior Architect in Economic Development, Limerick City and County Council
Sustainable Futures Léan Doody, Europe Digital Property and Smart Cities Leader, Arup
Panel Discussion
13:00
Lunch
14:00
Session 3: Making Cities Work-Progressive Administrations- opportunities and barriers
Chair: James Pike, Director, O'Mahony Pike
Limerick 2030 David Conway, Chief Executive, Limerick Twenty Thirty DAC
Healthy Placemaking Andreas Markides AoU, Managing Director, Markides Assosiciates
Progressive City Governance Dr. Pat Daly, Chief Executive, Limerick City and County Council
Panel Discussion
15:25
Break
15:45
Session 4: Collaboration and Community Building
Chair: Rosie Webb, Senior Architect in Economic Development, Limerick City and County Council
New Life for Towns: Reconciling Heritage and Urban Growth – Swords Castle Masterplan Fionnuala May, County Architect, Fingal County Council
Regeneration in heritage areas – the Paisley experience Stuart McMillan, Regeneration Manager, Renfrewshire Council
Learning from Porto Councillor Pedro Baganha, Councillor for Urbanism, Porto Council
Panel Discussion
17:10
Closing address: Where next for Ireland's Cities and Towns? John Moran
Conclusion Tony Reddy AoU, Chair, The Academy of Urbanism
17:35
Close
Book Now
Image of Limerick by William Murphy / Flickr