Designing with Nature in Town and City
November 11
@
16:00
–
November 12
@
18:00
Online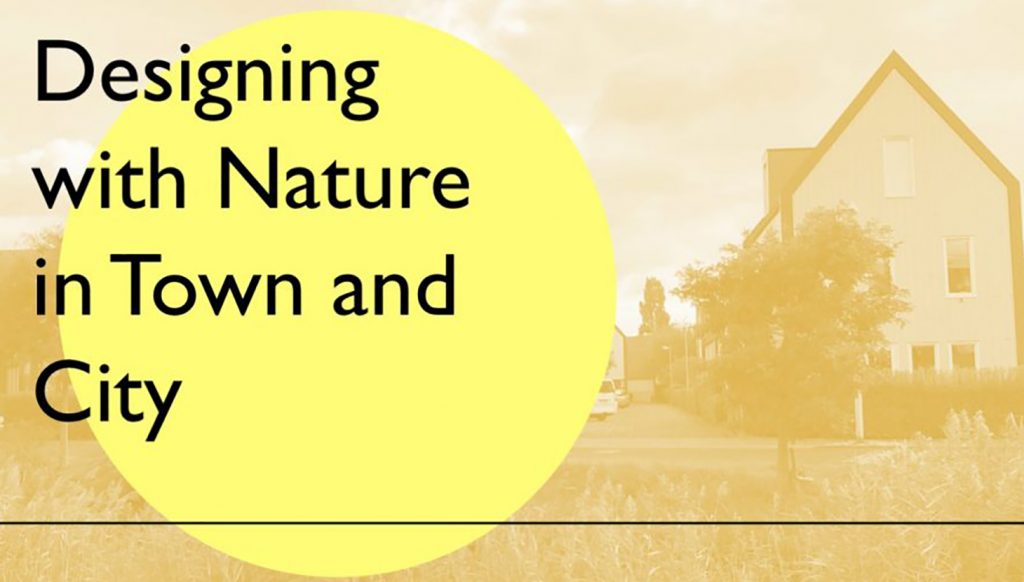 2020 marks the centenary of Ian McHarg; landscape architect, ecologist and urbanist, and native of Glasgow Clydebank. Through two online sessions, we will celebrate McHarg's authorship of Design with Nature in 1969, as well as his position as founding Chair of the Department of Landscape Architecture at the University of Pennsylvania (UPenn). The event will also look at McHarg's legacy, and how lessons from planning using natural systems are applied now, and what the future holds.
The sessions take place late afternoon on the 11th and 12th November, tying into the time of year when COP26 would have taken place in Glasgow, and include speakers from the Academy of Urbanism, the Landscape Institute and the University of Pennsylvania.
---
Session 1: Designing with Nature: legacy and prospect
Wednesday 11th November 2020, 16:00 – 18:00 UK time
Session 1 will focus on the legacy and prospect of Design with Nature, and act to set the scene around McHarg, as well as present how Glasgow and the west of Scotland got to where they are today through the lens of ecological urbanism. We will then skip across the North Sea and hear from the City of Utrecht. The session is split into two parts.
Part one: The Legacy of Ian McHarg: Scots-American – his legacy 'at home', facilitated by Prof Brian Evans.
Speakers:
Bill Whitaker, Curator and collections manager of the Architectural Archives of the University of Pennsylvania
Fritz Steiner, Dean of Weitzman School, University of Pennsylvania
Laurel McSherry, Director of the Graduate Landscape Architecture Program at Morgan State University
Part two: Ecological Urbanism: Designing with Nature Today, chaired by Brian Evans.
Four short presentations which set the context of where Glasgow, the West of Scotland and our neighbours in The Netherlands are today, and demonstrate the influence of Design with Nature. Speakers:
Max Hislop, Programme Manager, Glasgow and Clyde Valley Green Network Partnership
Gillian Dick, Spatial Planning Manager, Glasgow City Council
Anthony McGuinness, West Dunbartonshire Council
Erlijn Mulder, City of Utrecht
---
Session 2: Designing with Nature Now and in the Future
Thursday 12th November 2020, 16:00 – 18:00 UK time
Session 2 will look at Designing with Nature now and in the future, and include project examples at a variety of scales from the US, demonstrating how the principles of Design with Nature, along with cross discipline collaboration, can contribute to successful outcomes.
Speakers for Session 2:
Billy Fleming, The McHarg Centre
Gullivar Shepard, Michael Van Valkenburgh Associates
Alice Shay, Buro Happold, New York
Mark Johnson, Civitas, Colorado
---
Tickets
Booking is now open and tickets are available to purchase via Eventbrite. This event is open to all and there are many ticket options dependent on your level of AoU membership. For all ticket enquiries please contact aou@academyofurbanism.org.uk
Book Now
---
Speakers
William Whitaker Curator and Collections Manager of the Architectural Archives of the University of Pennsylvania Weitzman School of Design.
William Whitaker is Curator and Collections Manager of the Architectural Archives of the University of Pennsylvania Weitzman School of Design. He trained as an architect and architectural historian at the University of New Mexico and the University of Pennsylvania, and primarily works on documenting and interpreting Penn's design collections. This includes holdings related to the of life and work of architect Louis I. Kahn and landscape architect Lawrence Halprin, as well as that of the husband and wife design team of Robert Venturi and Denise Scott Brown.
William has organized and co-curated over 30 exhibitions and co-authored and co-edited several works; he has lectured on a wide range of subjects related to twentieth century architecture, landscape, and community design in the greater Philadelphia region, to audiences in the United States, Canada, Germany and India.
For more background see: https://www.design.upenn.edu/architectural-archives/people/william-whitaker
Frederick Steiner FASLA, FAAR, RAAR, SITES AP Dean, University of Pennsylvania Weitzman School of Design
Frederick Steiner is Dean of the University of Pennsylvania Weitzman School of Design as well as Co-Executive Director of The McHarg Center. He previously served as Dean of the School of Architecture and Henry M. Rockwell Chair in Architecture at The University of Texas at Austin for 15 years, as well as teaching at a number of institutions. Amongst other achievements, he has been a visiting professor of landscape architecture at Tsinghua University, China; a Fulbright-Hays scholar at Wageningen University, The Netherlands; and a Rome Prize Fellow in Historic Preservation at the American Academy in Rome.
Dean Steiner is a Fellow of both the American Society of Landscape Architects and the Council of Educators in Landscape Architecture; and a Scholar at the Penn Institute for Urban Research. He helped establish the Sustainable SITES Initiative, the first program of its kind to offer a systematic, comprehensive rating system designed to define sustainable land development and management, and holds the SITES Professional (SITES AP) credential.
Dean Steiner was a presidential appointee to the national board of the American Institute of Architects and was on the Urban Committee of the National Park System Advisory Board.
For more background see: https://www.design.upenn.edu/administration/people/frederick-steiner
Laurel McSherry, FAAR, FCELA, ASLA Associate Professor and Director of the Graduate Landscape Architecture Program at Morgan State University
Laurel McSherry is Associate Professor and Director of the Graduate Landscape Architecture Program at Morgan State University. An alumna of Rutgers University and the Graduate School of Design at Harvard University, she is recipient of the1999 Rome Prize in Landscape Architecture from the American Academy in Rome, and the 2017-2018 Fulbright-Scotland Visiting Professorship at The Glasgow School of Art.
Regarded as a visual thought leader in landscape architecture, she is recipient of numerous awards and prizes for her competition design work; and her writing, design, and artwork have been published widely. Professor McSherry is a frequent lecturer both within the United States and internationally, and Affiliated Faculty of the McHarg Center for Urbanism and Ecology at the University of Pennsylvania. For more background see: https://www.morgan.edu/school_of_architecture__planning/faculty/staff/laurel_mcsherry.html
Max Hislop Programme Manager, Glasgow and Clyde Valley Green Network Partnership
Max has been the Programme Manager for the Glasgow and Clyde Valley (GCV) Green Network Partnership since it was formed in 2007. Max reports to The Partnership Board which is comprised of the eight regional local authorities, Forestry Commission Scotland, Scottish Natural Heritage, Scottish Enterprise, the Glasgow Centre for Population Health, and the Scottish Environmental Protection Agency. He manages a small team based in the GCV Strategic Development Planning Authority in central Glasgow, the role of which is to facilitate and catalyse delivery of the GCV Green Network through strategic and partnership working.
Gillian Dick Manager Spatial Planning – Research & Development at Glasgow City Council
Gillian manages the Spatial Planning Research and Development Team within the Development Plan Group at Glasgow City Council (GCC). Responsibilities include GCC's input to the development of National Place Standards and implementation of Placemaking Policy; development of Glasgow's Open Space Strategy and Local Contexts; and strategic input to the Glasgow and Clyde Valley Green Network and the Central Scotland Green Network.
Gillian is the Lead for Glasgow's role as front runner city in the EU Horizon 2020 Connecting Nature project, see www.connectingnature.eu
Antony McGuinness BA(Hons), MSc Urban and Regional Planning MRTPI Team Leader – Forward Planning, West Dunbartonshire Council
Antony took up the role of Team Leader in Forward Planning in January 2017. As part of the wider Planning, Building Standards and Environmental Health Section, the Forward Planning Team prepare the Local Development Plan for the Council area, as well as inputting into Clydeplan (the Strategic Development Plan). The Team also carry out small scale projects such as Charrettes, environmental improvements and conservation projects, as well as jointly taking forward the Council's approach to integrating community and spatial planning. Anthony led on the work to gain the Building with Nature Excellence Award for Local Development Plan 2, which is the first Local Development Plan and Strategic Planning document in the UK to receive this award for its approach to green infrastructure throughout the Plan.
On graduating with his masters from Strathclyde University, Antony worked in the private sector, before spending the majority of his 18 year career in different posts in both North and East Ayrshire Councils, where he has been involved in community planning, regeneration, economic development, development management and development planning.
Anthony has a Masters in Urban and Regional Planning, and is a Member of the Royal Town Planning Institute. He sees planning as being for the benefit of communities.
Erlijn Mulder City of Utrecht
Erlijn Mulder is a senior strategist for the Mayors office in Utrecht, and over the last five years, has developed the strategy of Healthy Urban Living for Everyone with various partners and stakeholders in the Utrecht municipality and region. Her current focus is on International Affairs – aiming to align knowledge and partners for the mission of creating healthier cities worldwide. Erlijn is Coordinator of Utrecht UNESCO City of Literature to develop an urban action plan to stimulate reading and (again) align stakeholders in this (international) assignment. In her free time she is board member of the infinite poem the 'letters van Utrecht' which is carved every Saturday in the cobblestones of the Old Canal – see https://www.delettersvanutrecht.nl/
Billy Fleming Wilks Family Director, Ian L. McHarg Center
Billy Fleming is the Wilks Family Director of the Ian L. McHarg Center in the Weitzman School of Design, and a senior fellow with Data for Progress. His fellowship with Data for Progress has focused on the built environment impacts of climate change, and resulted most prominently in the publication of low-carbon public housing policy briefs tied to the "Green New Deal for Public Housing Act" introduced in 2019.
In his role at the McHarg Center, amongst other published works, Billy is co-editor of the forthcoming book An Adaptation Blueprint (Island Press, 2020); co-editor and co-curator of the book, and now internationally-traveling exhibit, Design With Nature Now (Lincoln, 2019; and lead author of the recently published and widely acclaimed "The 2100 Project: An Atlas for the Green New Deal."
Billy's writing on climate, disaster, and design has been published widely, and he's frequently asked to weigh in on the infrastructure and built environment implications of climate change, as well as candidate and congressional climate plans.
Prior to joining Penn, Billy worked as a landscape architect, city planner, organizer, and, later, in the Obama Administration's White House Domestic Policy Council.
For more background see: https://mcharg.upenn.edu/people/billy-fleming
Gullivar Shepard Partner, Michael Van Valkenburgh Associates
Gullivar is a principal and a guiding force at Michael Van Valkenburgh Associates (MVVA) steering the direction of many of the firm's largest projects. His training as an architect brings a strategic perspective to complex projects which include Brooklyn Bridge Park and Javits Federal Building Plaza in New York City, and the Port Lands in Toronto.
Gullivar led the planning and design efforts for the White House's Pennsylvania Avenue project, the Princeton University Landscape Master Plan, Harbourfront Centre on Toronto's waterfront, the Gateway Arch Grounds in St. Louis, MO, and most recently the Waller Creek Chain of Parks in Austin, TX. He has also helmed many of the firm's winning and finalist entries in international design competitions such as the High Line in New York City and Detroit's Ralph C. Wilson, Jr. Centennial Park.
For more background see: https://www.mvvainc.com/staff.php?id=15
Alice Shay Associate Principal, Buro Happold
Alice Shay is a city planner and urban designer with over 10 years of experience in New York City and beyond. Leading urban design and strategic planning projects with Buro Happold's Cities team, Alice brings insights for the delivery of a high quality public realm for a range of users, accessible and sustainable community development approaches, strategic planning and project management for large interdisciplinary teams, and the invention of innovation processes to identify implementable and novel solutions for intractable urban development challenges.
During her time at Buro Happold, Alice has managed the Reimagine the Canals competition and strategy development processes for the New York State Canal System and the streetscape of Lower Manhattan.
Alice has a B.A. from Brown University and a Master in City Planning from the Massachusetts Institute of Technology.
For more background see: https://www.burohappold.com/people/alice-shay/
Mark Johnson FASLA President, Civitas
Mark has over 35 years of experience as a landscape architect and his creative leadership guides designers, project teams, and clients to push the edges of how Civitas work to realize new ways to deliver project value. Since co-founding Civitas in 1984 Mark has led major public space projects, urban design plans and strategies, and has become widely known for his impact on several cities, on education, and on the role that landscape architects can play in leading complex projects to successful results. He is a natural communicator who has led many communities through challenging programming and design conditions and he has established Civitas as a leading firm on a national and international level.
Whilst earning his MLA in Urban Design at Harvard, Mark found important mentors in Peter Walker, Moshe Safdie, and Jose Luis Sert – great designers and thinkers who fuelled Mark's passion to make a real difference in how cities work for both people and the environment. His Harvard thesis focused specifically on how urban form responds to dramatic cultural, economic and environmental change, establishing Mark's commitment to adaptable and resilient urbanism.
Mark is a regular lecturer at AIA, ASLA, APA, ULI events and a participant in many issue driven symposia around the world, notably the International Academy of Design and Health. He has been on many design juries for national awards and competitions, was Chair of the Editorial Committee of Landscape Architecture Magazine.
For more background see: http://civitasinc.com/mark-johnson/